Sections: Information | Description | Reviews | Awards | Articles | Criticism and Analysis | Fun Stuff | Covers | Afrikaans, Armenian, Catalan, French, Galician, German, Italian, Korean, Norwegian, Polish, Portuguese, Russian, Spanish, Turkish, and Welsh Covers
---
Information
First editions:

Alfred A. Knopf, 1964, USA.

Illustrated by: Joseph Schindelman

Allen & Unwin, 1967, UK.

Illustrated by: Faith Jaques

Revised edition:
Excised material:

"Willy Wonka's Hottest Item" chapter published in October 2014 issue of Vanity Fair

Censorship:

Removed from a locked reference collection at the Boulder, Colo. Public Library (1988), where it had been placed because the librarian thought the book espoused a poor philosophy of life.

Recent news: 
Contains:
Related books:
Movies:
Theater:
Audio Books:
TV Shows:
Video Games:
Rides:
---
Description
Willy Wonka's famous chocolate factory is opening at last!
But only five lucky children will be allowed inside. And the winners are: Augustus Gloop, an enormously fat boy whose hobby is eating; Veruca Salt, a spoiled-rotten brat whose parents are wrapped around her little finger; Violet Beauregarde, a dim-witted gum-chewer with the fastest jaws around; Mike Teavee, a toy pistol-toting gangster-in-training who is obsessed with television; and Charlie Bucket, Our Hero, a boy who is honest and kind, brave and true, and good and ready for the wildest time of his life!
---
Reviews
---
Awards
New England Round Table of Children's Librarians Award (USA 1972)
Surrey School award (UK 1973)
Millennium Children's Book Award (UK 2000)
Blue Peter Book Award (UK 2000)
---
Articles
---
Criticism and Analysis
---
Fun Stuff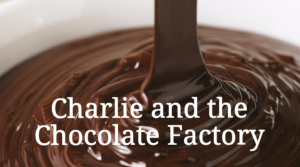 Merchandise
---
Covers
---
Afrikaans Covers – Charlie en die Sjokoladefabriek
---
Armenian Covers – Չարլին և շոկոլադի գործարանը
---
Catalan Covers
Note: Catalan is a language spoken in parts of Spain and France .
---
French Covers – Charlie et la chocolaterie
---
Galician Covers – Charlie e a fábrica de chocolate
Note: Galician is a language spoken in part of Spain .
---
German Covers – Charlie und die Schokoladenfabrik
---
Italian Covers – La Fabbrica Di Cioccolato
---
Korean Covers – 찰리와 초콜릿 공장
---
Norwegian Covers
---
Polish Covers – Fabryka Czekolady
---
Portuguese Covers
---
Russian Covers
---
Spanish Covers – Charlie y la fábrica de chocolate
---
Turkish Covers – Charlie'nin Çikolata Fabrikasi
---
Welsh Covers – Charlie a'r Ffatri Siocled