Do you live in England or are you planning a visit sometime soon? You must visit The Roald Dahl Museum and Story Centre in Great Missenden. They've got his actual writing hut!
Sections: Information | Fun Stuff | Michael's Visit
---
Information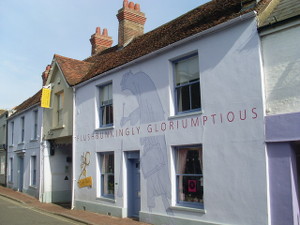 The Roald Dahl Museum and Story Centre is an award-winning and family-friendly Museum aimed at 6 to 12 year olds. Situated in the village where Roald Dahl lived and wrote for 36 years, the Museum was created as a home for the author's unique archive and to inspire a love of stories and creative writing in all visitors. It features two fun and fact-packed galleries (including Roald Dahl's original Writing Hut) and a fantabulous interactive Story Centre.
Please visit the official site for opening times, ticket prices, etc.
---
Fun Stuff
---
Michael's Visit
In 2014 Michael Mander (a contributor to this site) visited the Museum. He writes:
My trip to the Roald Dahl Museum began with a long drive to Great Missenden. On finding a parking space and the museum (it's the blue building!) you enter through the chocolate factory gates.
I began with a bite to eat from Cafe Twit. They serve some really nice food at pretty good prices! More information on the website.
Then I began to explore the museum. You start at Boy Gallery – all about Dahl's childhood. You can see replicas of some of his school reports alongside extracts from Boy with illustrations from Blake. There is also the opportunity to get dressed up in costumes, watch videos and virtually explore the archives.
Next up in the Going Solo Gallery. Here you will find a height chart of Dahl's characters as well as the man himself. He certainly deserves the name Lofty – he towered above me! You can also get into a Gladiator cockpit (which was very small considering his height, makes you realise what a squeeze his flights must have been). Of course, the most iconic part of the Going Solo Gallery is the full replica of the writing hut – every one of the original items placed exactly as it was amazing to see.
The Story Centre was a marvel. An original set from the Fantastic Mr Fox Movie was the first thing to catch my eye – but there were many interactive exhibits targeted at children to get them thinking about writing. Writing about your dreams, designing characters, making clay-mation movies. While I was there a presentation on Dahl's exciting life was happening!
After spending what must've been about an hour in the museum, I met up with the museum archivist and visited the reading room. This was an incredible experience – I saw some of Dahl's original notebook, drafts for stories (James and the Giant Peach was *very* different before a bit of tweaking!), letters from Dahl and even a model of one of the Oompa Loompas from the 2005 film! If you're interested in visiting, you need to make an appointment in advance and provide a letter of recommendation supporting your research.
Once I left the museum, there was a lot to see around the local area. See the library that inspired Matilda, the petrol pumps that inspired Danny the Champion of the World and the wood that inspired The Minpins. My journey around the local area culminated in seeing Dahl's grave – an extremely iconic spot scattered with pencils and chocolate wrappers! The nearby bench is surrounded by a quote and makes for a very thought-provoking visit to the church.