Note: I am compiling this biography myself from various sources, and unfortunately it's still not finished yet. Sorry! This page just has some random information on it.
In 1953 Dahl married actress Patricia Neal, whom he had first met at a party in 1951. She was a promising Warner Bros. star who had recently ended a much-publicized affair with Gary Cooper. They had five children together and he attributes his success as a writer of children's books to them. "Had I not had children of my own, I would have never written books for children, nor would I have been capable of doing so." Neal suffered a series of near-fatal strokes in 1965 and her road to recovery (with Roald's help) was described in Barry Farrell's book Pat and Roald (later made into the film The Patricia Neal Story).
In 1983, Roald Dahl and Patricia Neal divorced after thirty years of marriage. Dahl quickly remarried Felicity Dahl, with whom he had fallen in love and carried on an affair for some time. Thus the last years of his life were relatively happy and productive, and some of his best books were written during this period: The BFG, The Witches, and Matilda. Roald Dahl died on November 23, 1990 in Oxford, England. He was buried in Great Missenden.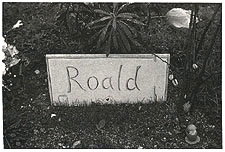 Influences
Boy – Tales of Childhood and Going Solo are accounts of Dahl's childhood experiences which explain where some of the ideas for his books originated.
Roald Dahl and his siblings were raised to be very conscious of their Norwegian heritage. Not only did his mother speak the language around the house, she also read them Norse myths and took them on annual trips to Norway to visit relatives. This heritage is most evident in Dahl's book The Witches, but its influence can be seen in other books as well.
Danny The Champion of the World, Matilda, and Roald Dahl's Revolting Rhymes are examples of stories resulting from Dahl's beliefs that "The writer for children must be a jokey sort of fellow… he must be unconventional and inventive."
Of children, he said, "They love being spooked… They love chocolates and toys and money… They love being made to giggle."
The stories of Roald Dahl are indeed treasures for our children and for generations to come.