St. Peter's Preparatory School in Weston-super-Mare was founded in 1900 and is described at length by Dahl in his book Boy (published in 1984). Roald attended St. Peter's from ages nine to thirteen, and he was so homesick at first that he even faked the symptoms of appendicitis (which he remembered from Astri and his older half-sister Ellen1) to earn a trip home. He eventually adjusted to school life, but he never learned to like it. In Boy he describes savage beatings, sadistic headmasters, prejudiced teachers, and even an abusive dormitory Matron. His nightmarish description though, is somewhat tempered by his concession that his memory of it was "coloured by my natural love of fantasy" (Treglown, 20). Schoolmates remembered him as a tall, soft-faced boy, not especially popular but very close to the few boys who became his friends. He was good at sports like cricket and swimming, but academically he was toward the bottom of his class. One of his main hobbies was reading, and some of his favorite novelists were the adventure writers Rudyard Kipling, Captain Marryat, H. Rider Haggarrd, and G.A. Henty. Their books emphasized a kind of heroism and masculinity that would later influence both Dahl's life and his own writing.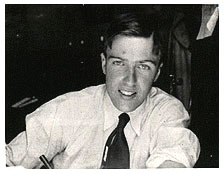 By the time Roald was thirteen the family had moved to Kent in England, and he was soon sent off to the famous Repton Public School. His sisters all attended Roedean in Sussex. To Roald, Repton was even worse than St. Peter's. His account of it in Boy includes fagging (younger boys, "fags", were basically personal slaves to the older prefects, called "boazers"), beatings, the torture of new boys, and other miseries common to many, although not all, boys' boarding schools of the time. One particularly scandalous section alleges that a former headmaster of Repton, Geoffrey Fisher (who had subsequently become Archbishop of Canterbury), was a sadistic flogger. According to Dahl, the vicious beatings that this man would deliver, combined with the fact that twenty years later he crowned Queen Elizabeth II in Westminster Abbey, made Dahl doubt the existence of God. In Jeremy Treglown's biography, however, he discovers that Dahl got his dates mixed up. The beatings he was referring to happened in 1933, a year after Fisher left Repton. Dahl must have gotten Fisher mixed up with J. T. Christie, his successor.
Not all memories of Repton were bad, though. Dahl fondly recalls in Boy that "every now and again, a plain grey cardboard box was dished out to each boy in our House, and this, believe it or not, was a present from the great chocolate manufacturers, Cadbury" (Boy, 147). Inside were twelve new chocolate bar inventions that the boys were asked to sample and critique. Dahl and his schoolmates took this very seriously, and Roald used to dream of working in a chocolate company's inventing room. He said in Boy, "It was lovely dreaming those dreams, and I have no doubt at all that, thirty-five years later, when I was looking for a plot for my second book for children, I remembered those little cardboard boxes and the newly-invented chocolates inside them, and I began to write a book called Charlie and the Chocolate Factory" (Boy, 149).
Footnotes
1. There has been some confusion about this issue. Two of Dahl's sisters actually had appendicitis – Astri died from it in 1920, and half-sister Ellen survived it in 1925. In Boy Dahl mentions learning the symptoms from Ellen, but in Treglown's biography it only mentions Astri.