Patricia Neal was born in Packard, Kentucky on January 20, 1926. Her father was a manager for the Southern Coal and Coke Company, and though the family was not sophisticated, they were comfortably well off. Neal's theatrical ambitions were evident early in her school career, and she later enjoyed a measure of success at Northwestern University. After her father's early death, Neal left to pursue life as an actress in New York. "Before she was twenty-one, she had been taken to lunch by Richard Rodgers, pursued by David O. Selznick, had turned down one Broadway role in favor of another, and had made the cover of Life" (Treglown, 111).
Patricia Neal's most scandalous claim to fame, however, was her long affair with Gary Cooper, her co-star from The Fountainhead (King Vidor, 1949). The affair with Cooper began two years earlier, in 1947, and by 1950 Cooper's wife had found out and joined the battle. On one occasion, Treglown reports, Neal received the following telegram: "I HAVE HAD JUST ABOUT ENOUGH OF YOU. YOU HAD BETTER STOP NOW OR YOU WILL BE SORRY. MRS. GARY COOPER." Eventually Mrs. Cooper got her way, but not before her husband had made Pat pregnant and persuaded her to have an abortion. Guilty and scared, Neal called off the relationship.
After this trying period, Neal won a part in The Children's Hour, a new play by Lillian Hellman. It was at one of Hellman's dinner parties in 1951 that she first met the newly relocated author Roald Dahl. He had become quite a favorite amongst the New York elite, and he loved to shock and scorn unsuspecting newcomers with his wit and sarcasm. When he found himself seated next to the beautiful (and ten years his junior) rising star Patricia Neal, his tactic was to ignore her all evening. It wasn't long, though, before the two of them were going out together on a regular basis.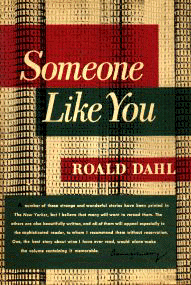 Dahl was also enjoying a measure of commercial success now as well. The sixty-year-old publisher Alfred Knopf had recently discovered some of Dahl's short stories and was eager to sign him to a deal. The collection Dahl later delivered in 1953 included such tales as "Taste," "My Lady Love, My Dove," "Skin," and "Dip in the Pool." Also included were four country stories gathered under the sub-title "Claud's Dog." The resulting book was entitled Someone Like You and received some very good reviews: "At disconcertingly long intervals, the compleat short-story writer comes along… Tension is his business; give him a surprise denouement, he'll give you a story leading up to it. His name in this instance is Roald Dahl" (James Kelly, quoted in Treglown, 119).
The publicity department at Knopf soon had even more to work with: Roald Dahl and Patricia Neal were married on July 2, 1953 at Trinity Church in New York.