Sections: Information | Description | Fun Stuff | Covers | Catalan, Czech, French, German, Japanese, and Russian Covers
---
Information
First editions:

Michael Joseph, 1979, Great Britain.
Alfred Knopf, 1980, USA.

Trivia:

Occasionally referred to as Dahl's "first" novel (even by the author), despite Some Time Never's publication 30 years earlier.

Connections:
Related books:
Magazine publications:
---
Description
The nameless narrator has revealed snippets of the lovable, lascivious Uncle Oswald's life in other collections, but this is the only novel – brief though it is – dedicated solely to the diaries of "the greatest fornicator of all time." Inspired by stories of the aphrodisiac powers of the Sudanese blister beetle, the palpable seductiveness of the lovely Yasmin Howcomely, and the scientific know-how of Professor A. R. Woresley, Uncle Oswald anticipates the concept of the Nobel sperm bank by some 40 years, flimflamming crowned heads, great artists, and eccentric geniuses into making "donations." The life of a commercial sperm broker has a few surprises even for a sophisticated bon vivant, and Dahl manages his signature sting-in-the-tail ending even in one of his lightest comic works.
---
Fun Stuff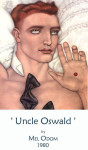 ---
Covers
---
Catalan Covers – Oncle Oswald
---
Czech Covers – Můj strýček Oswald
---
French Covers – Mon oncle Oswald
---
German Covers – Onkel Oswald und der Sudankäfer
---
Japanese Covers – オズワルド叔父さん
---
Russian Covers – Мой дядюшка Освальд