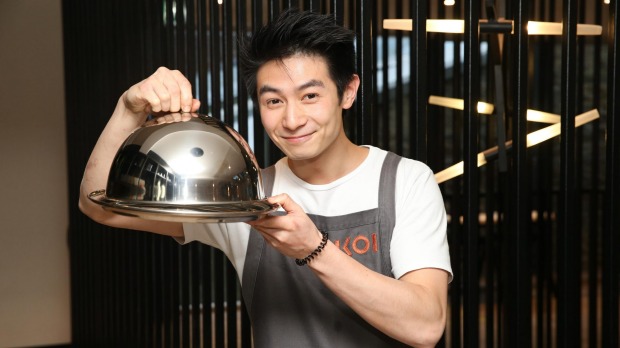 Last week I found out that there was going to be a special BFG-inspired foodie event today at Sydney's Koi Dessert Bar, only a few blocks from my house! Chef Reynold Poernomo would be doing a "rotsome" three-course meal and turning his restaurant into Giant Country. On a whim, I sent them an email asking if it would be possible to stop in to take some photographs. To my surprise they invited me to the special VIP lunch. How could I refuse?
I walked over this morning and was greeted by some enormous letters and a crowd starting to form.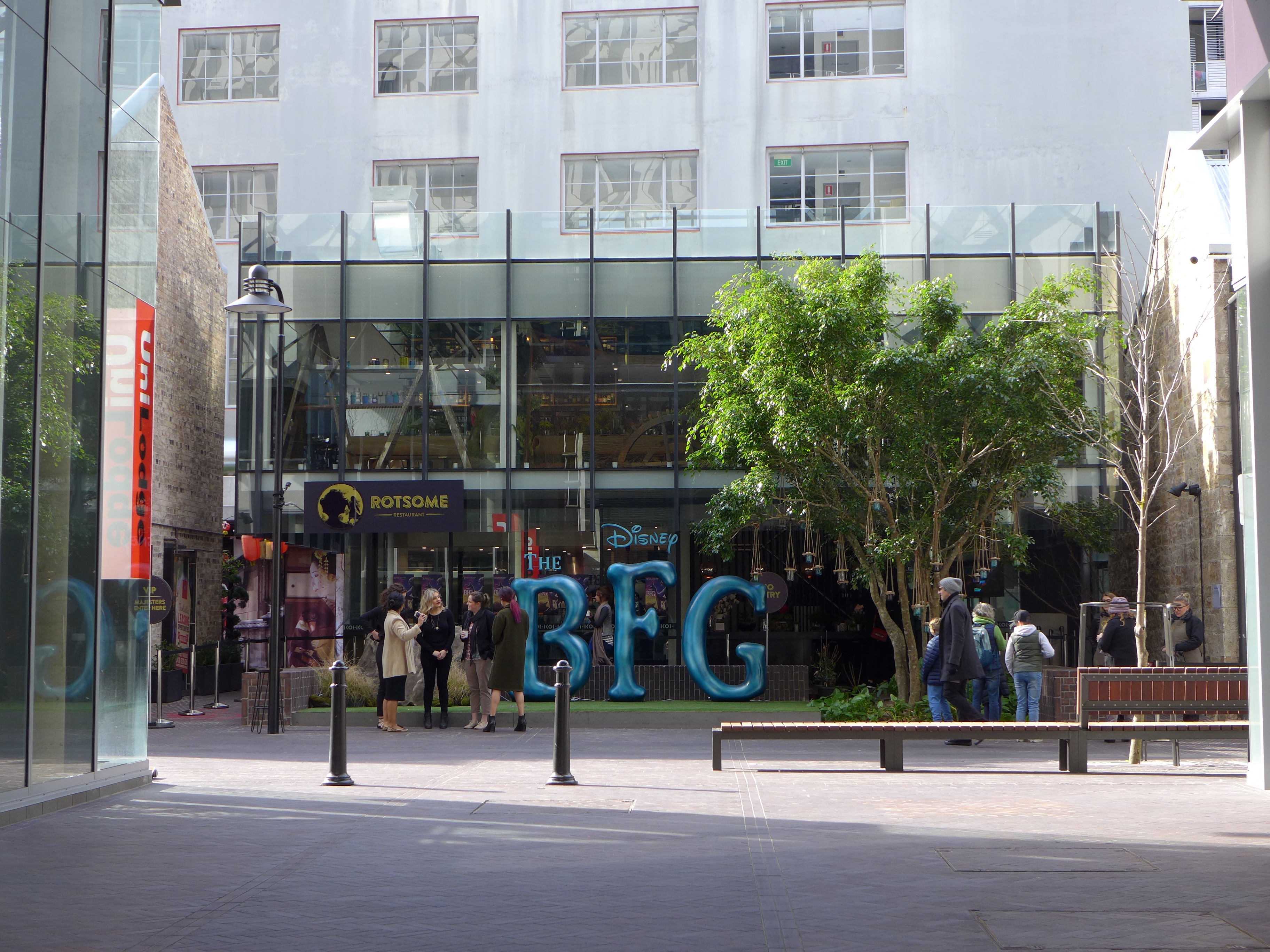 There were dream jars hanging from the tree.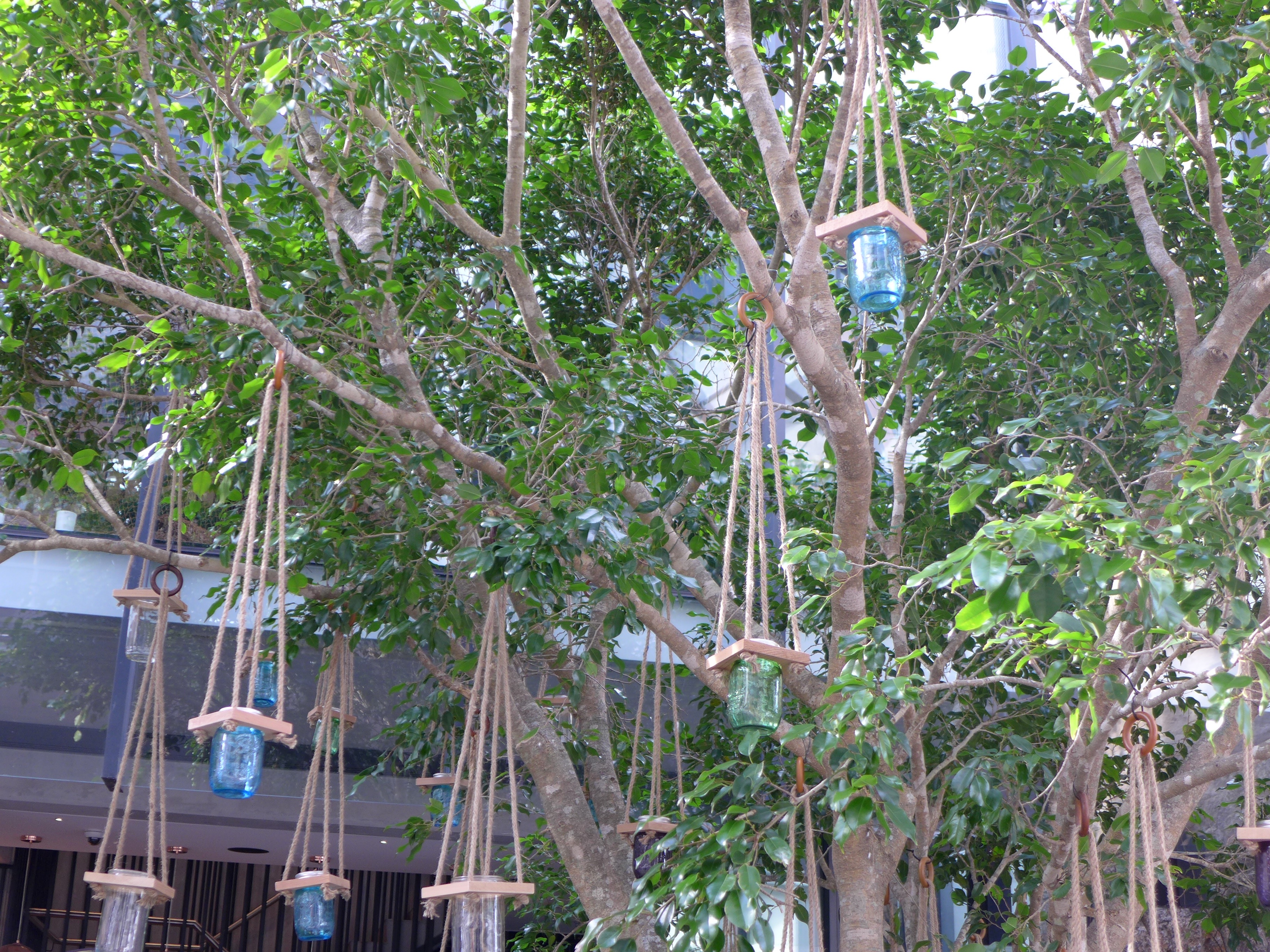 A nice young man offered to take my photo, which I promptly Instagrammed. (The hashtag was #rotsomebfg if you want to see what everyone posted.)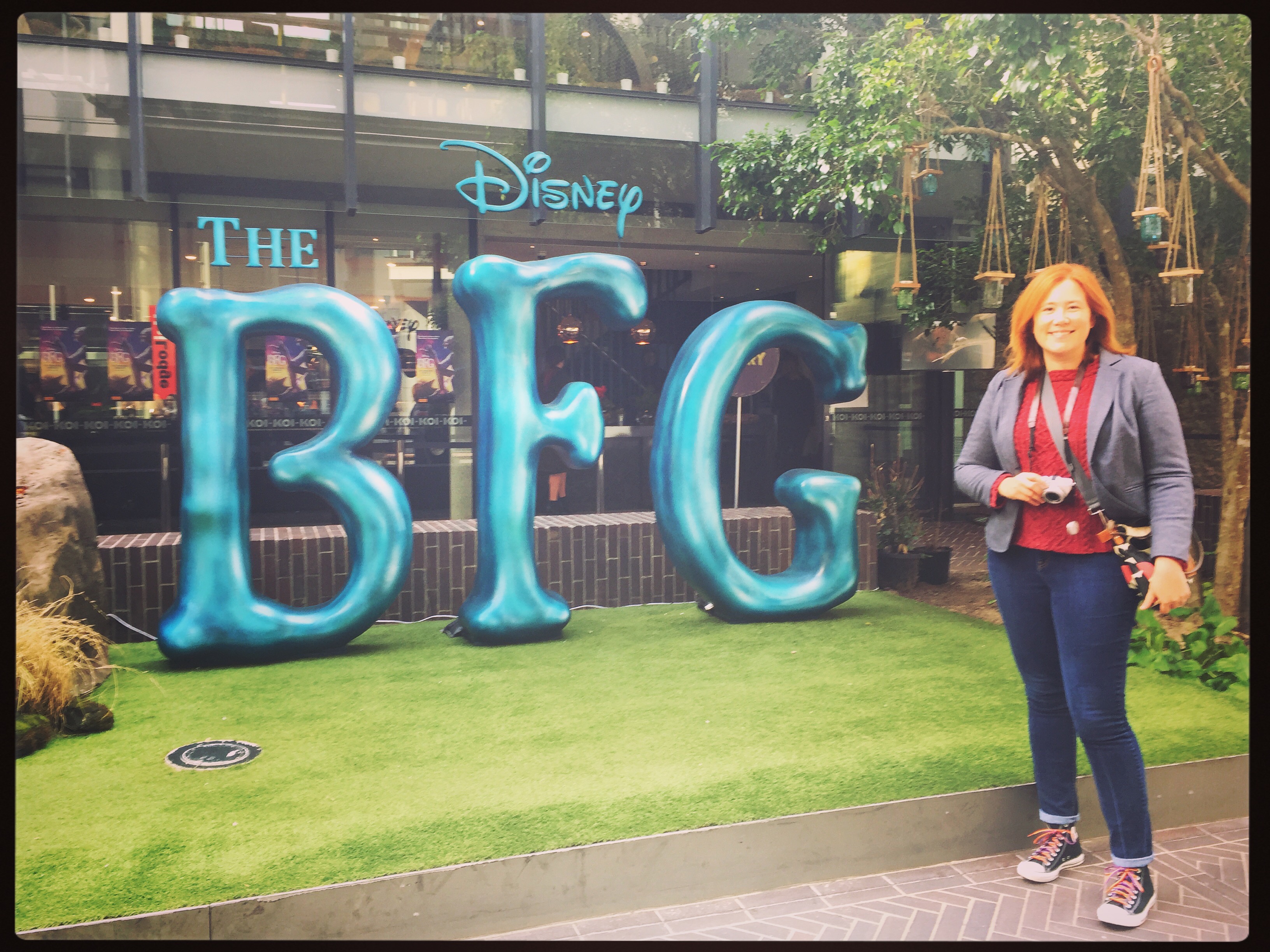 I was one of the first people to turn up. I was ushered inside and upstairs into the restaurant, which was decked out specially for the occasion.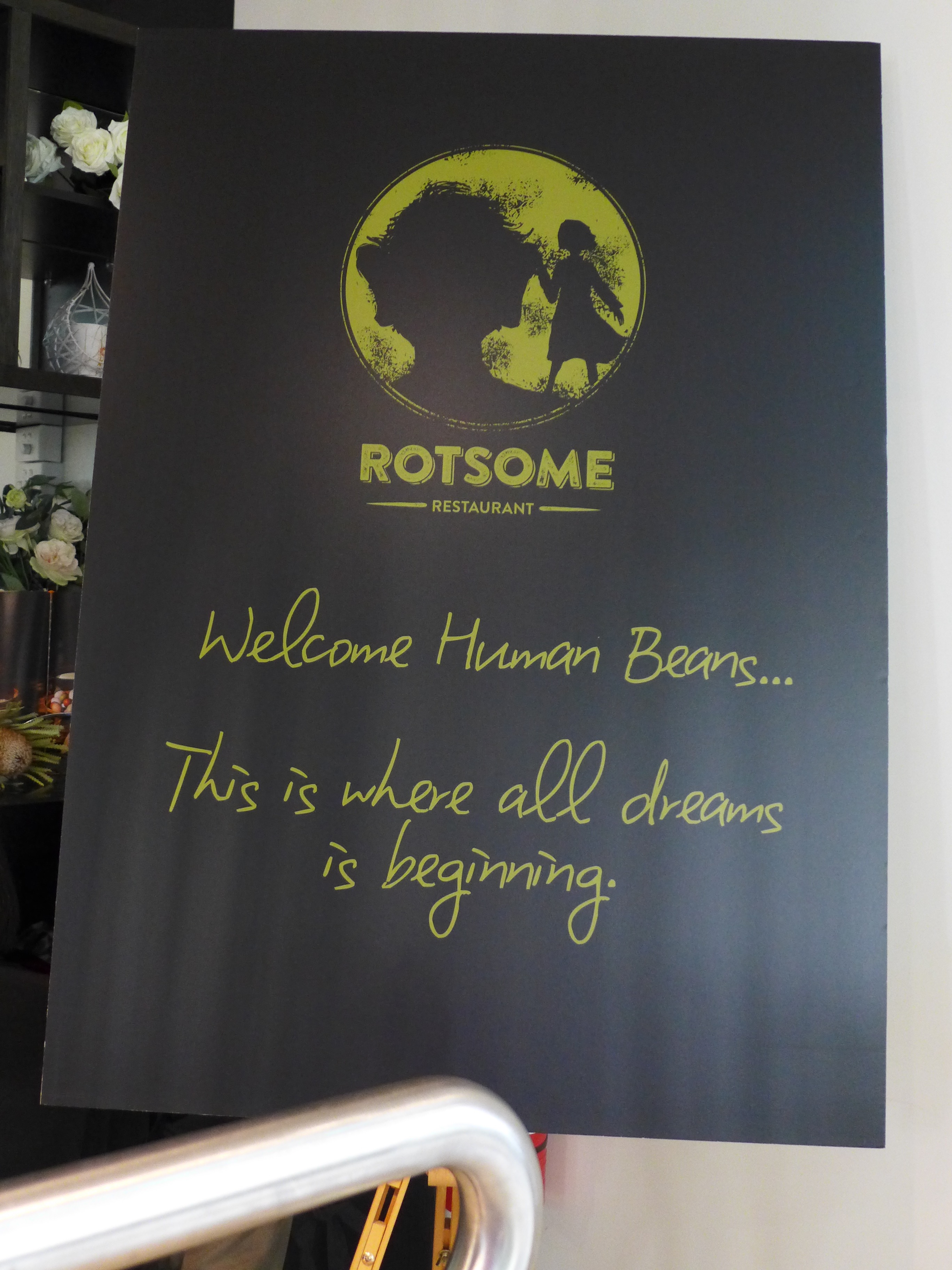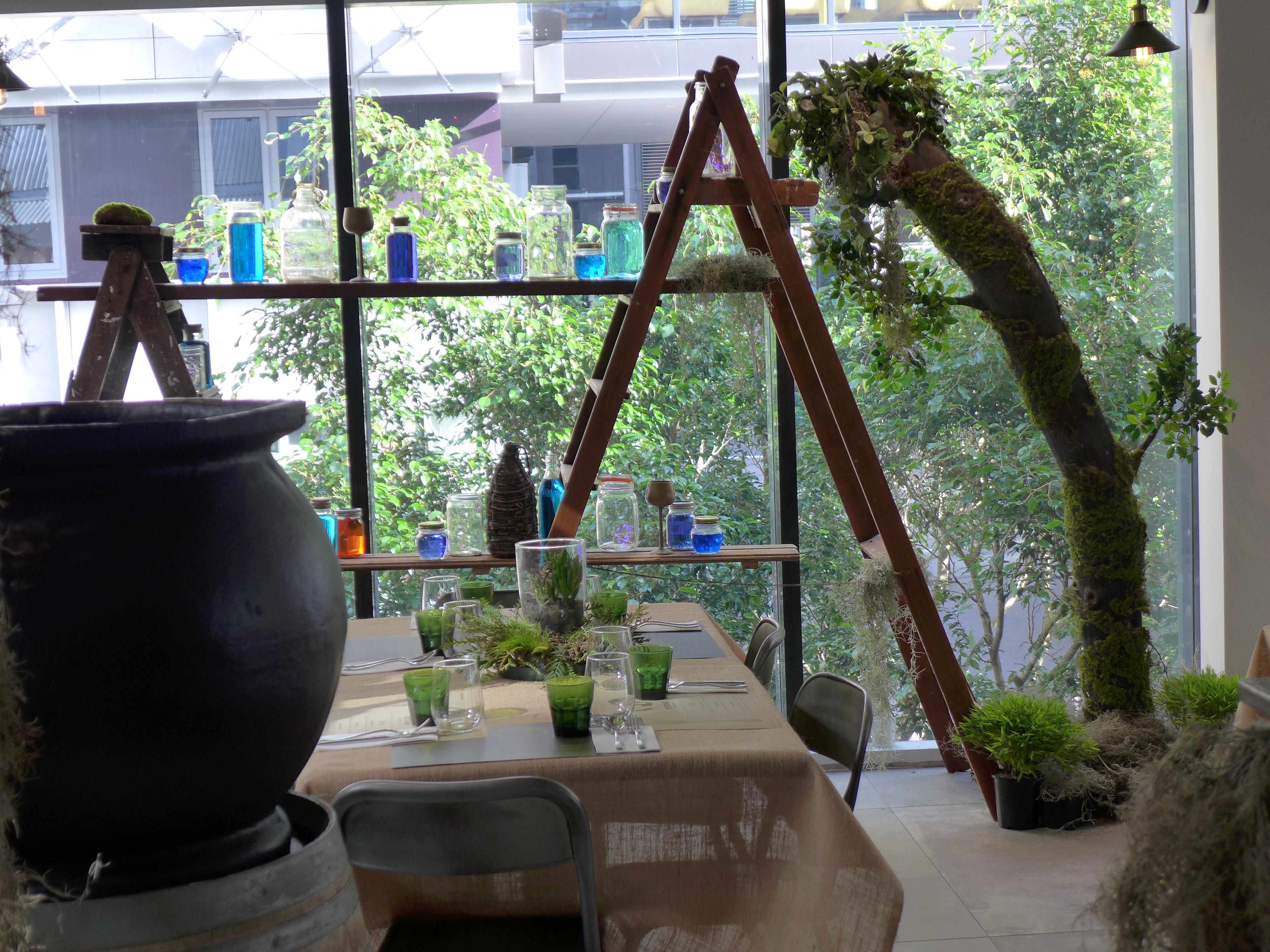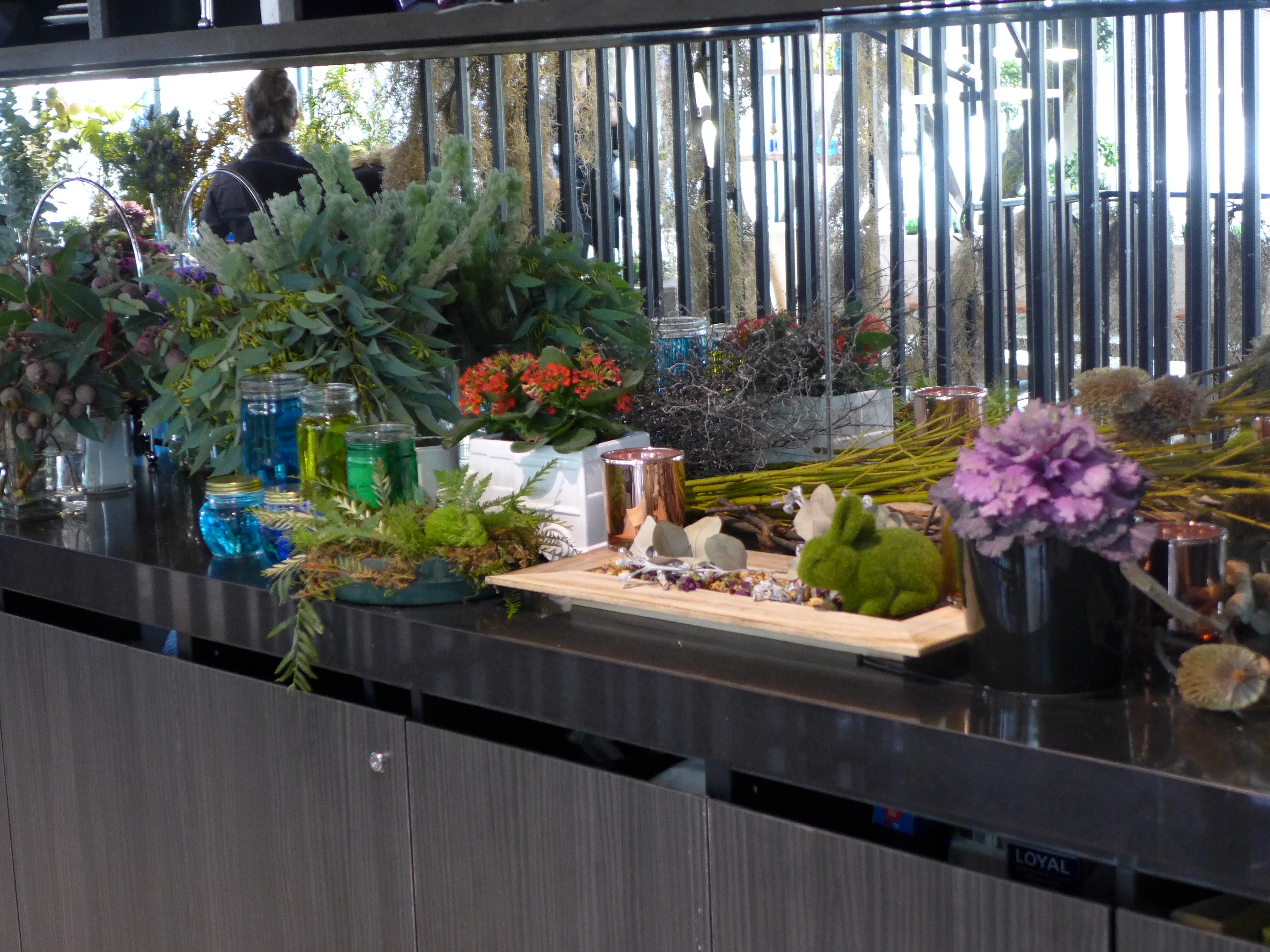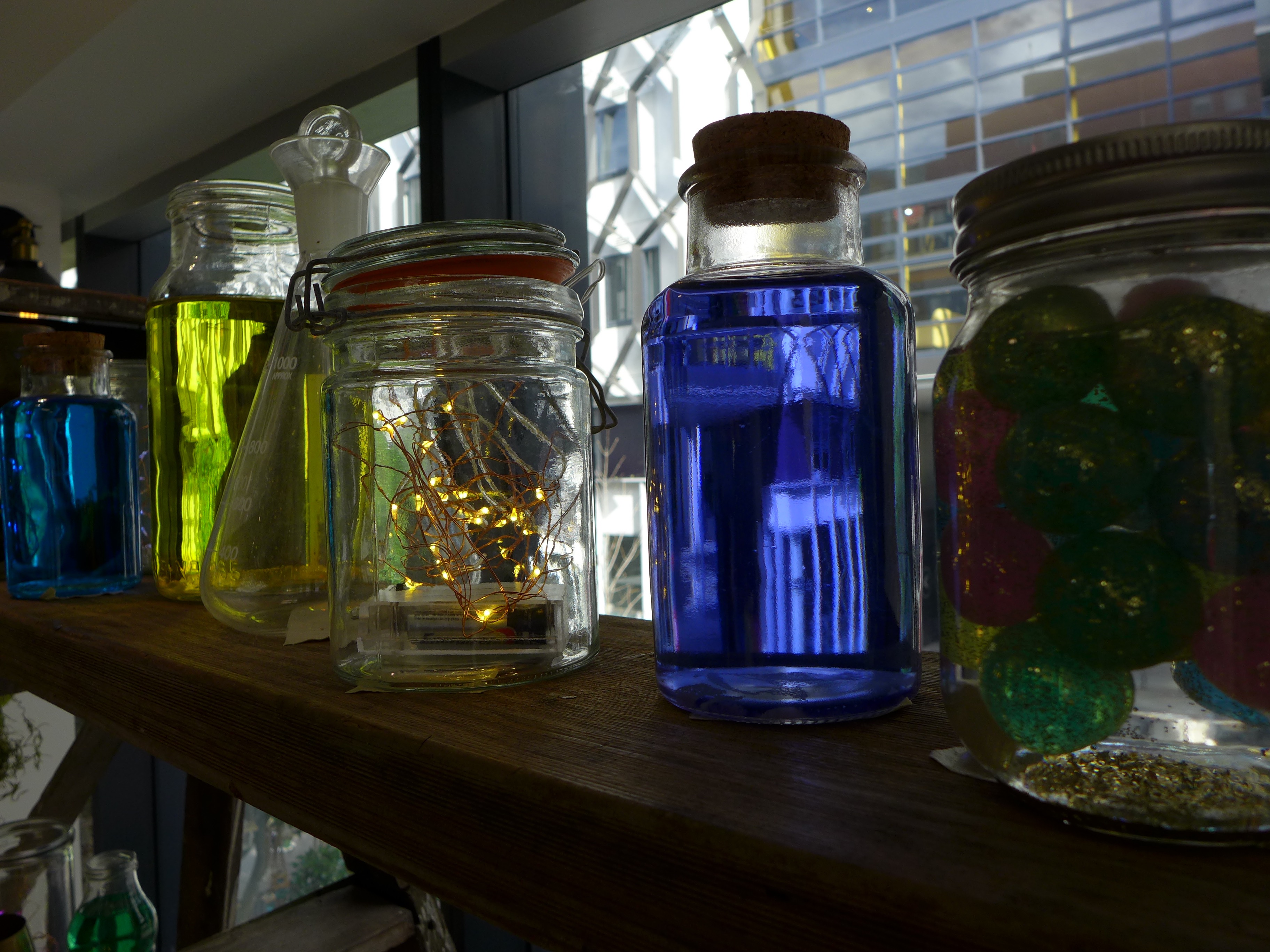 The decor was very lush and green, which I don't necessarily associate with the book of The BFG. But it does tie in with the movie's version of Giant Country, and especially with Dream Country. They also had some ladders and shelves and a giant cog, which reminded me of Spielberg's vision of the BFG's cave.
A couple members of staff were dressed as ringmasters, and they greeted me in effusive Gobblefunk: "DOES YOU HAVE ANY CHIDLERS WITH YOU, HUMAN BEAN?" I said I did not, thus I was seated at a small two-person table off to the side. There were two different three-course menus available at each table, depending on where you sat.
Menu #1 was SWIGPILL (Squid ink pasta with pea puree, jamon & tendrils), PHIZZWIZARD (Exploding, nitro cucumber palette cleanser with mint dust), and ZOZIMUS (Chocolate sphere on a nest of crispy celeriac with surprise yolk of mango, passionfruit, and sago).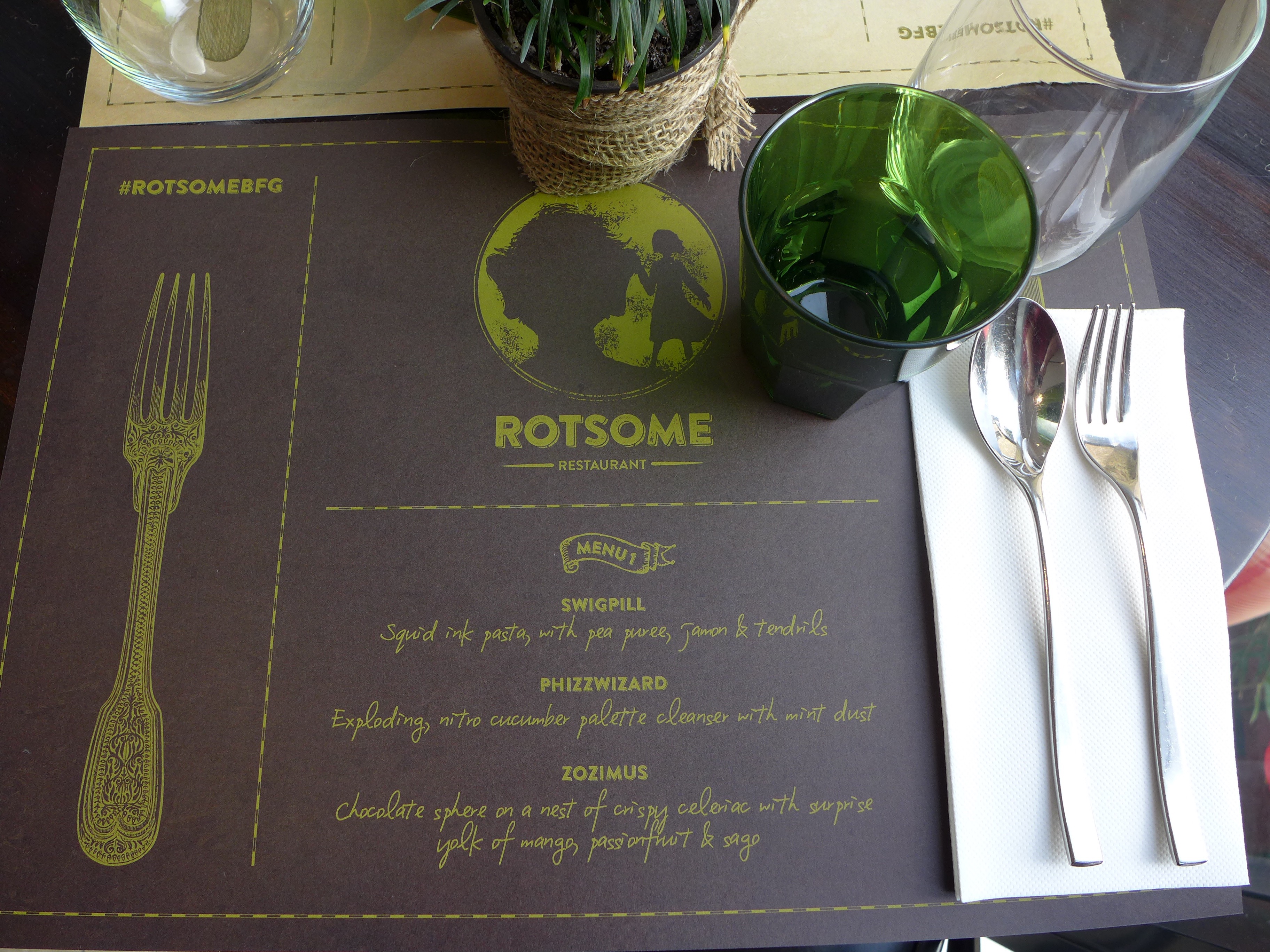 Menu #2 was SWATCHSCALLOP (Tender beef ribs with charred pumpkin puree & mushrooms), PHIZZWIZARD (same as menu #1), and THE SNOZZCUMBER (Pistachio mousse with caramel gel centre, lime yoghurt, matcha moss, pistachio sponge & green apple sorbet).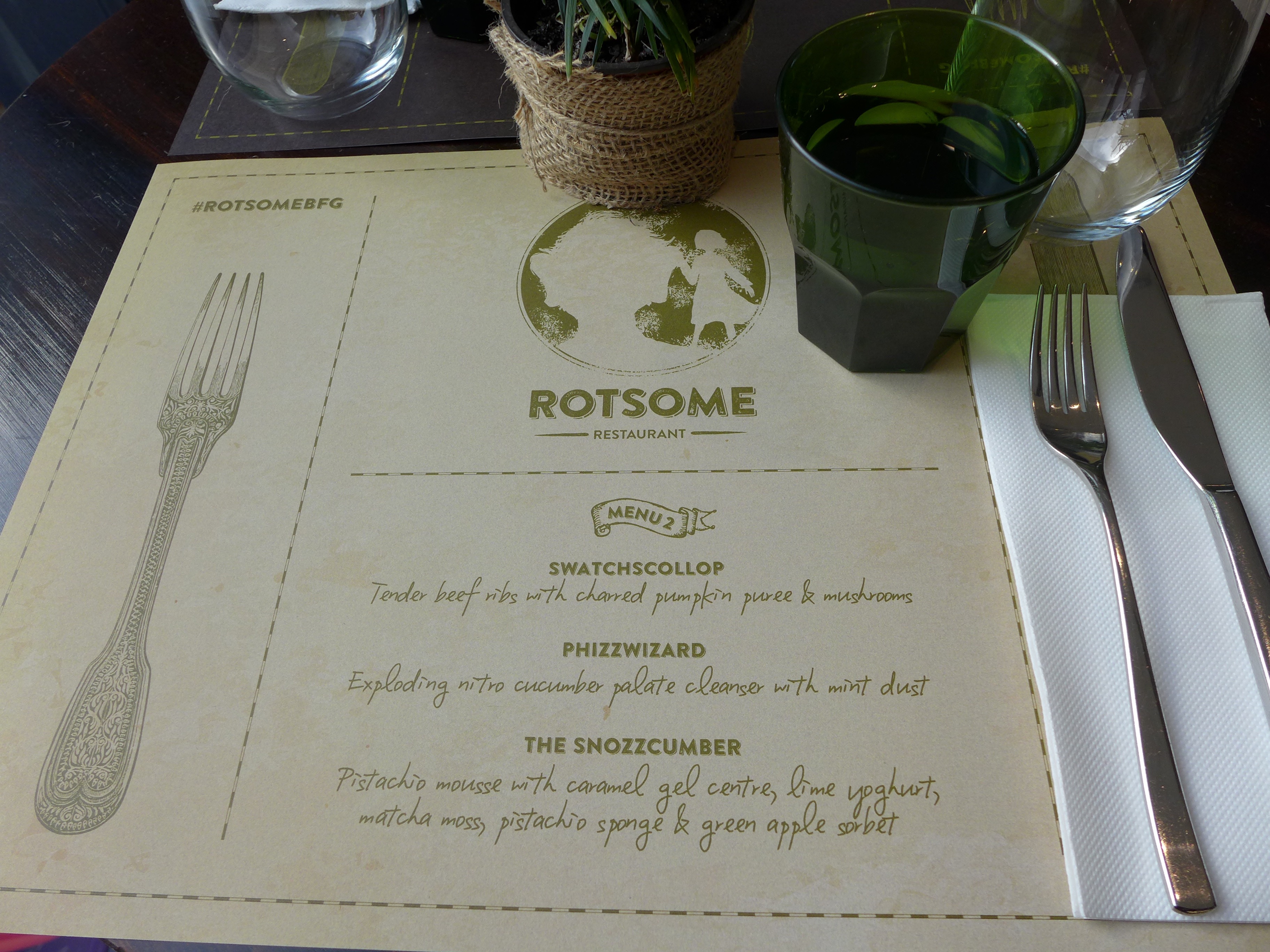 A waiter poured me a glass of water and asked if I'd like to try some frobscottle. Of course I would! I had no idea what to expect.
That was amazing. It was a sort of lime cordial made with sparkling water and little fruity bits, and they chilled it with dry ice. The bubbles didn't go down, sadly, but the fruity bits did! It was a lovely effect and the kids nearby were amazed. To me it tasted of bubble gum and lime and maybe even some vanilla, and I drank two glasses of it!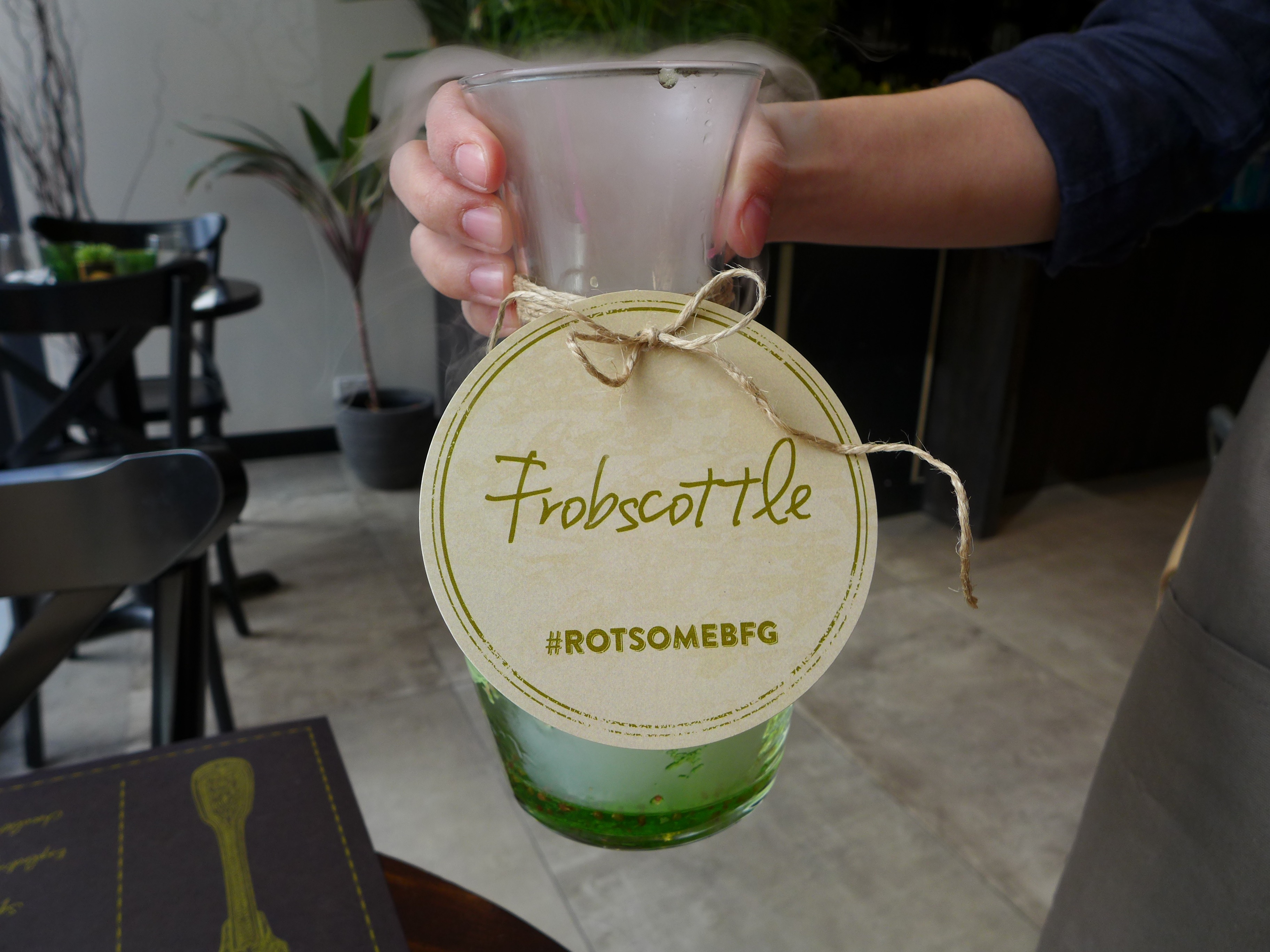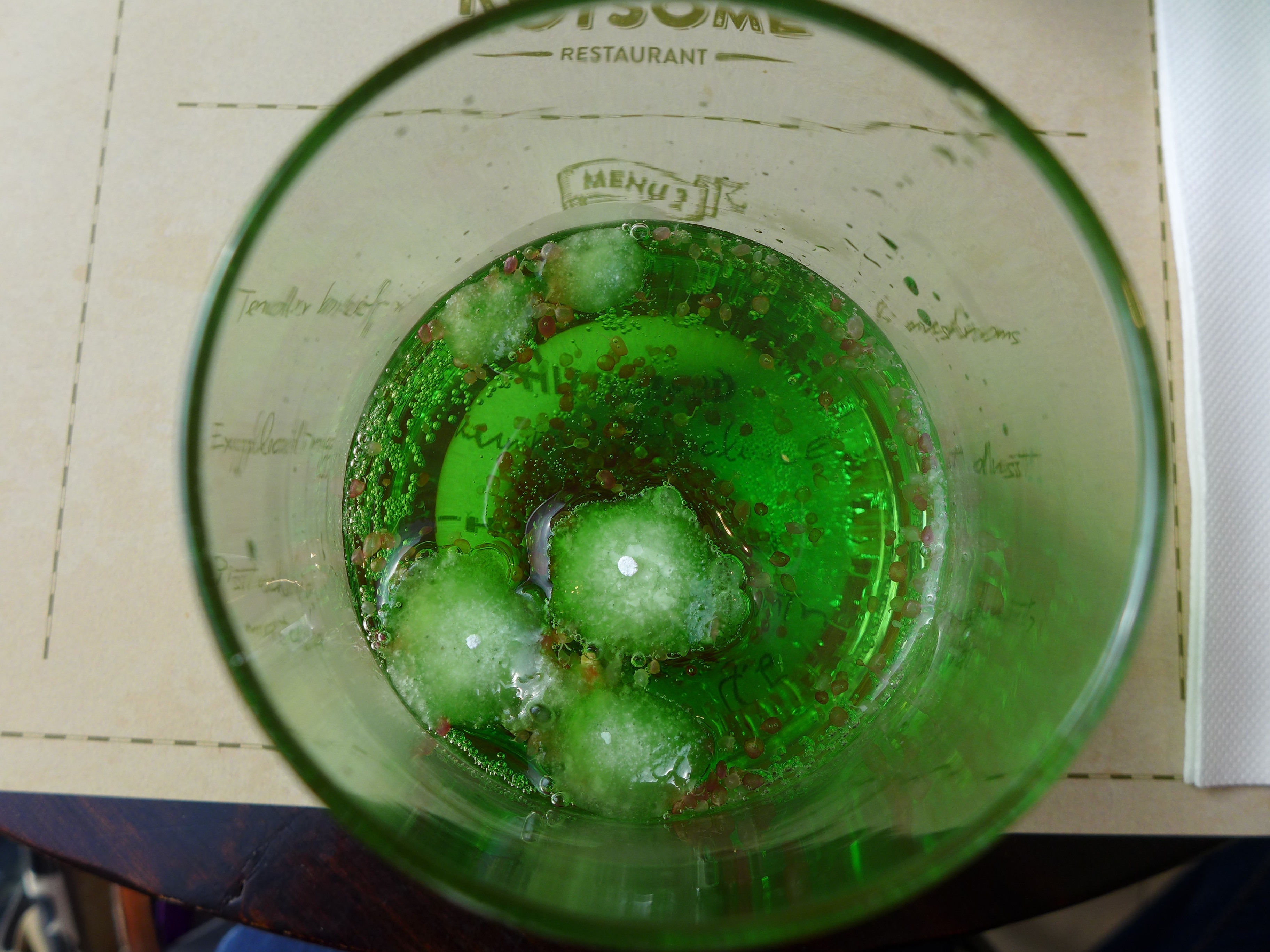 I really liked the mirrors on the ceiling. It reminded me of the pond from Dream Country. Were we on the real side, or the dream side?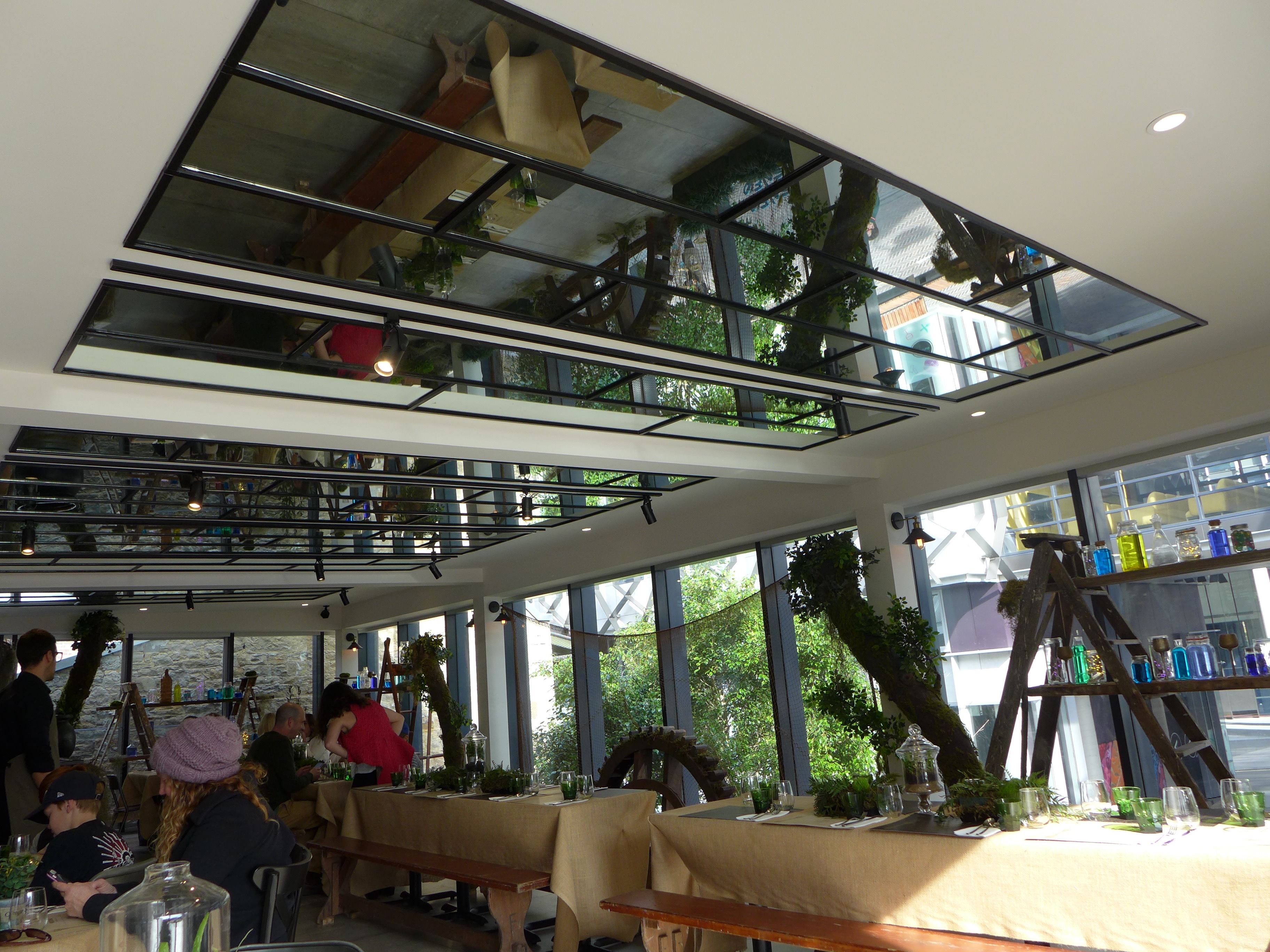 My first course arrived swiftly. I had the SWATCHSCALLOP – the beef ribs. They were incredibly tender and juicy, with a nice char on the outside. It was a pretty big portion too! I devoured it. It wasn't the most kid-friendly meal though, and I noticed the little girl at the next table didn't finish hers. I wonder how many parents ended up finishing it for their kids?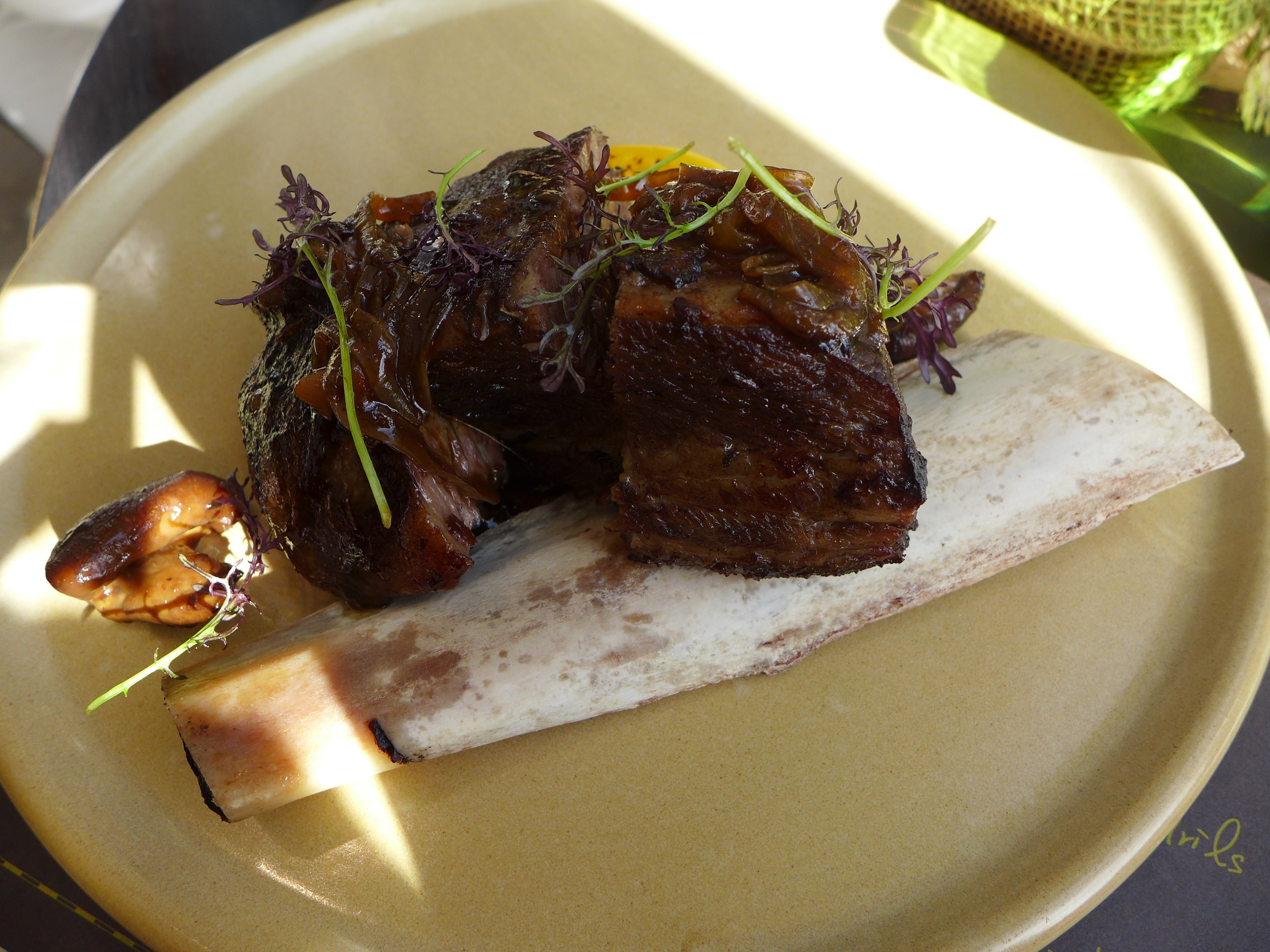 The second course was the Phizzwizard – the "exploding nitro cucumber palate cleanser". It reminded me of Heston Blumenthal's Nitro Poached Cocktails. I wasn't sure what would happen when I broke through the crust…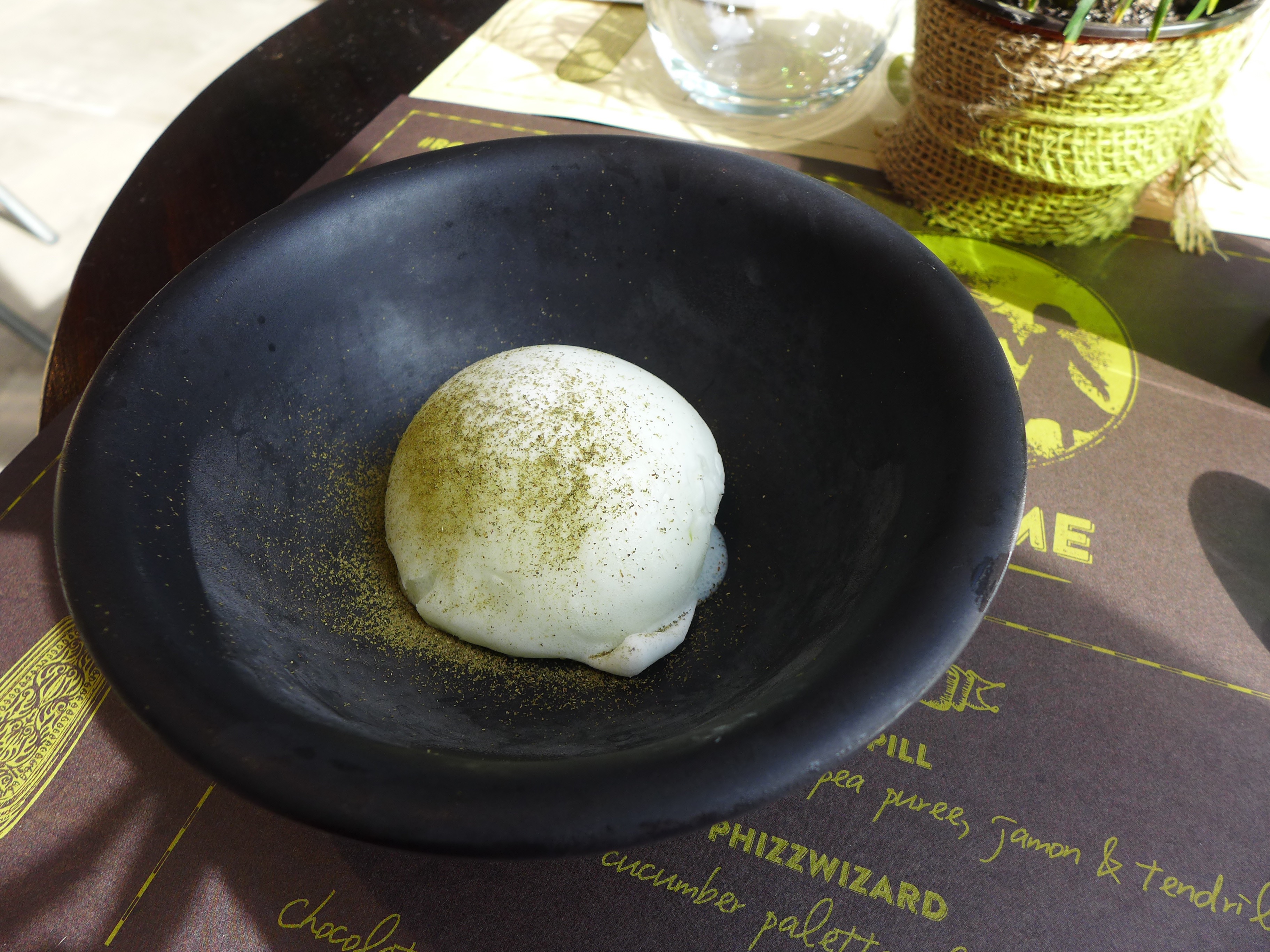 No explosions, sadly. But it was tasty! Very light and refreshing.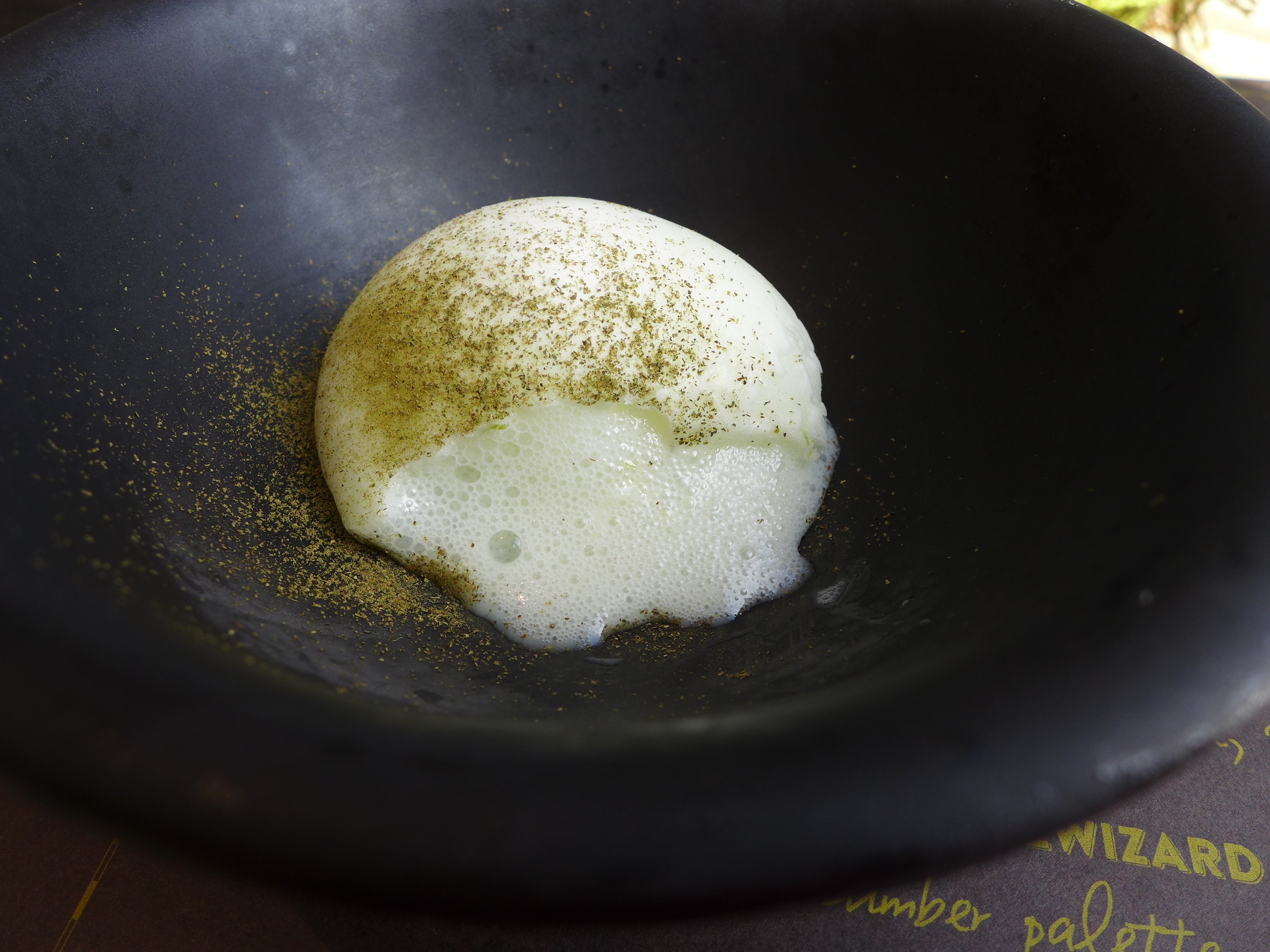 And then it was time for dessert! The sun was in my eyes, so I switched sides of my table. I hadn't realised that the waitress would think I was indicating a dessert preference, so I ended up with the ZOZIMUS.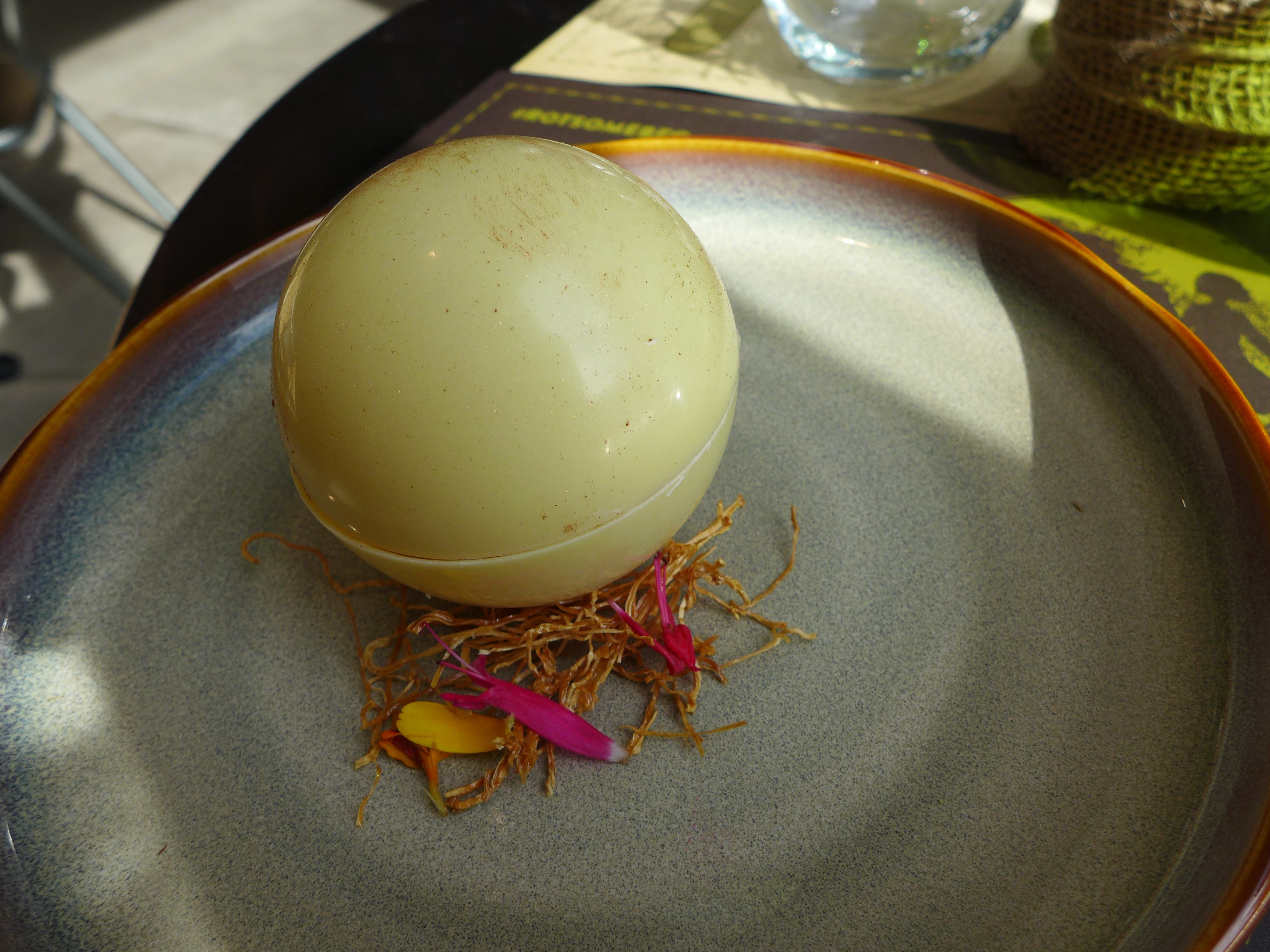 Isn't it pretty? For some reason I got it into my head that I needed to smash the sphere open, despite it obviously being two separate halves. The top was quite thick though, so in the end I succeeded in smashing the bottom!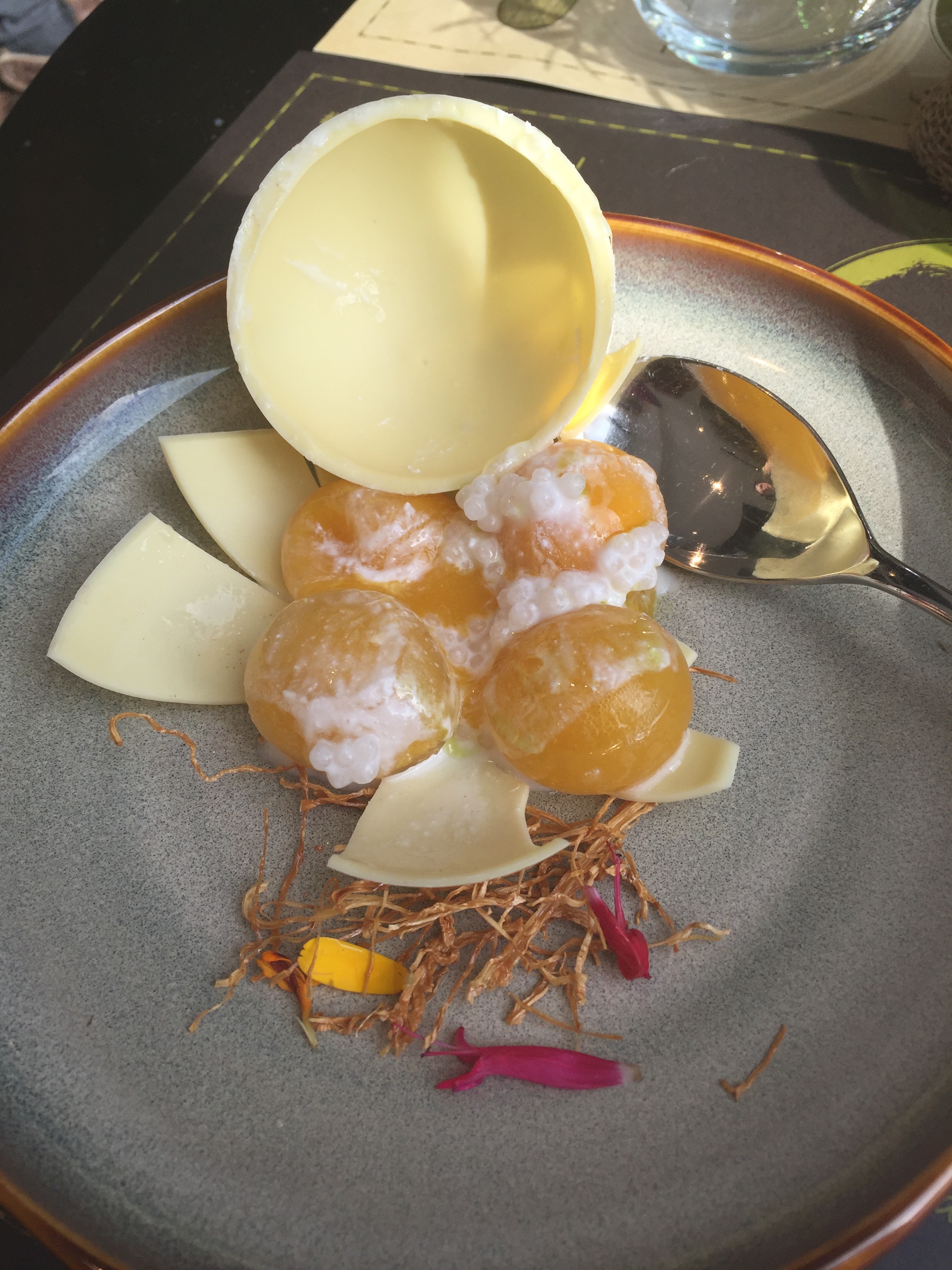 It was wonderful. The yolks burst into mango and passionfruit puree, which I happily scooped up with my white chocolate shards. How inventive! To be honest, Chef Reynold was reminding me more of Willy Wonka than the BFG.
And then the man himself came out to address the very happy crowd of diners. We gave him and his staff a big round of applause.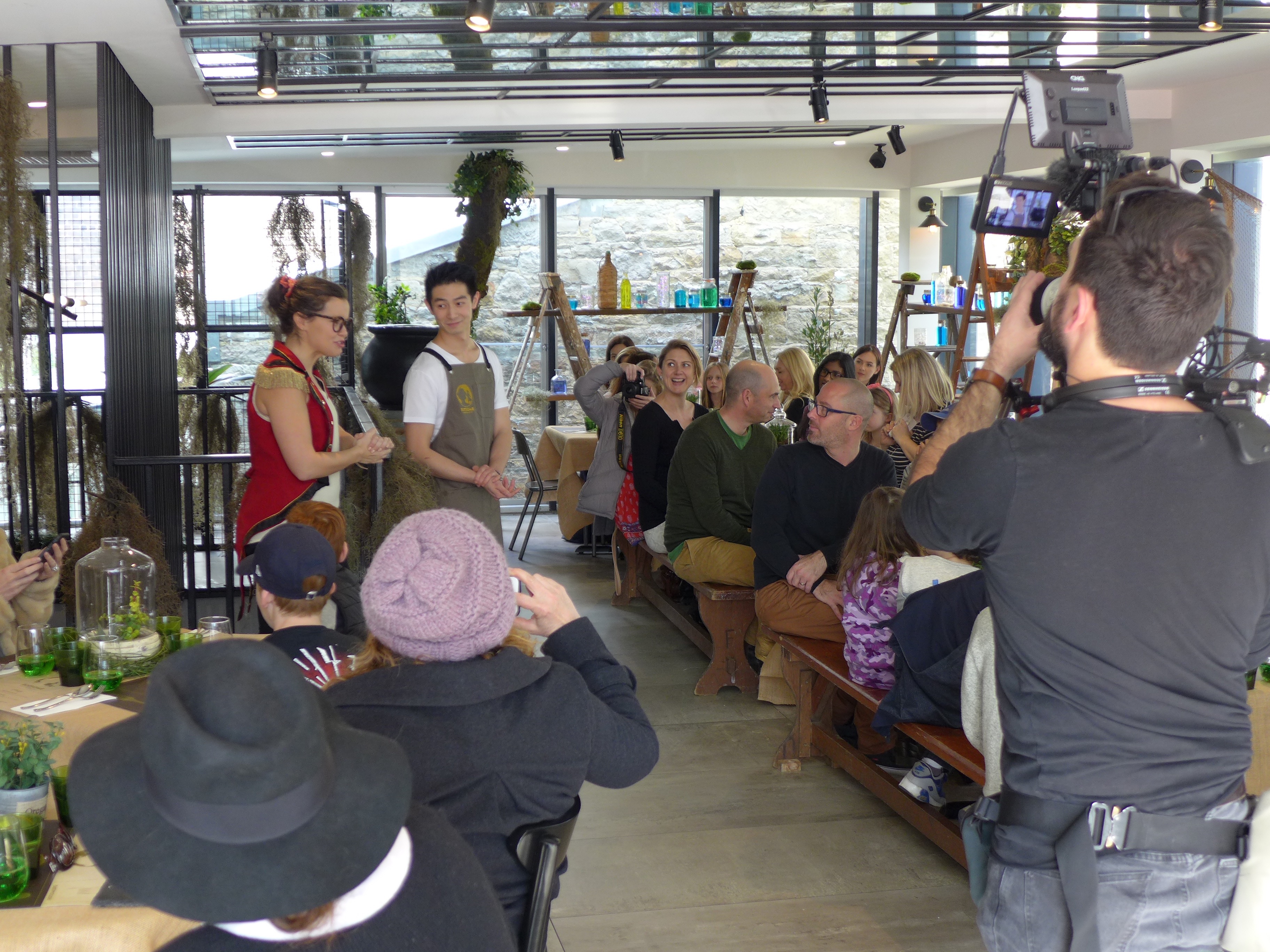 I took a quick selfie with one of the ringmasters, who so impressed me with her fluent grasp of Gobblefunk.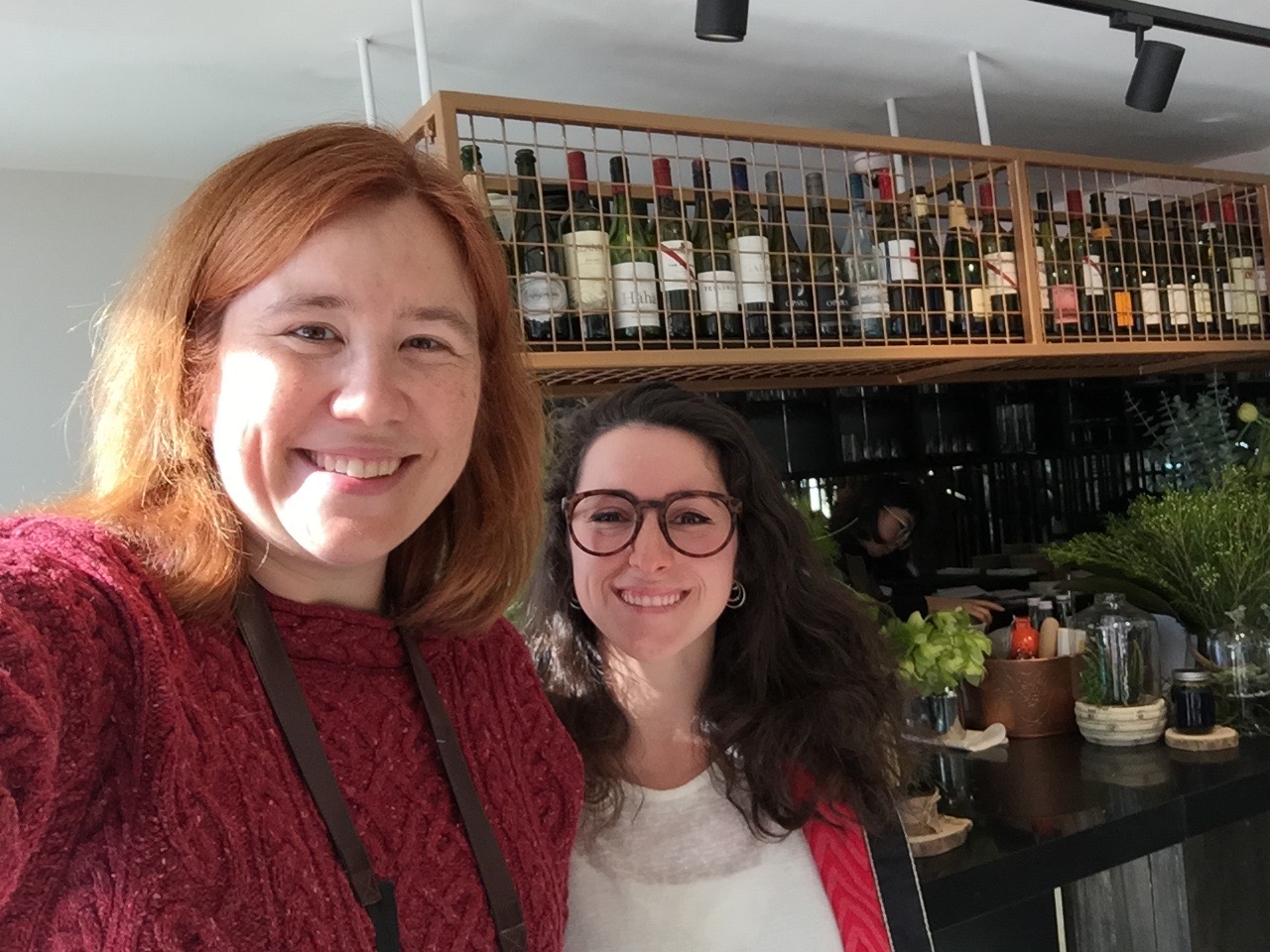 As I was leaving, there was a few more surprises. I was invited to take the menus home, each of which has a BFG movie poster on the back! And as I descended the stairs, I was given a tiny dream jar filled with jelly beans. I clutched it happily as I skipped out into the sunshine.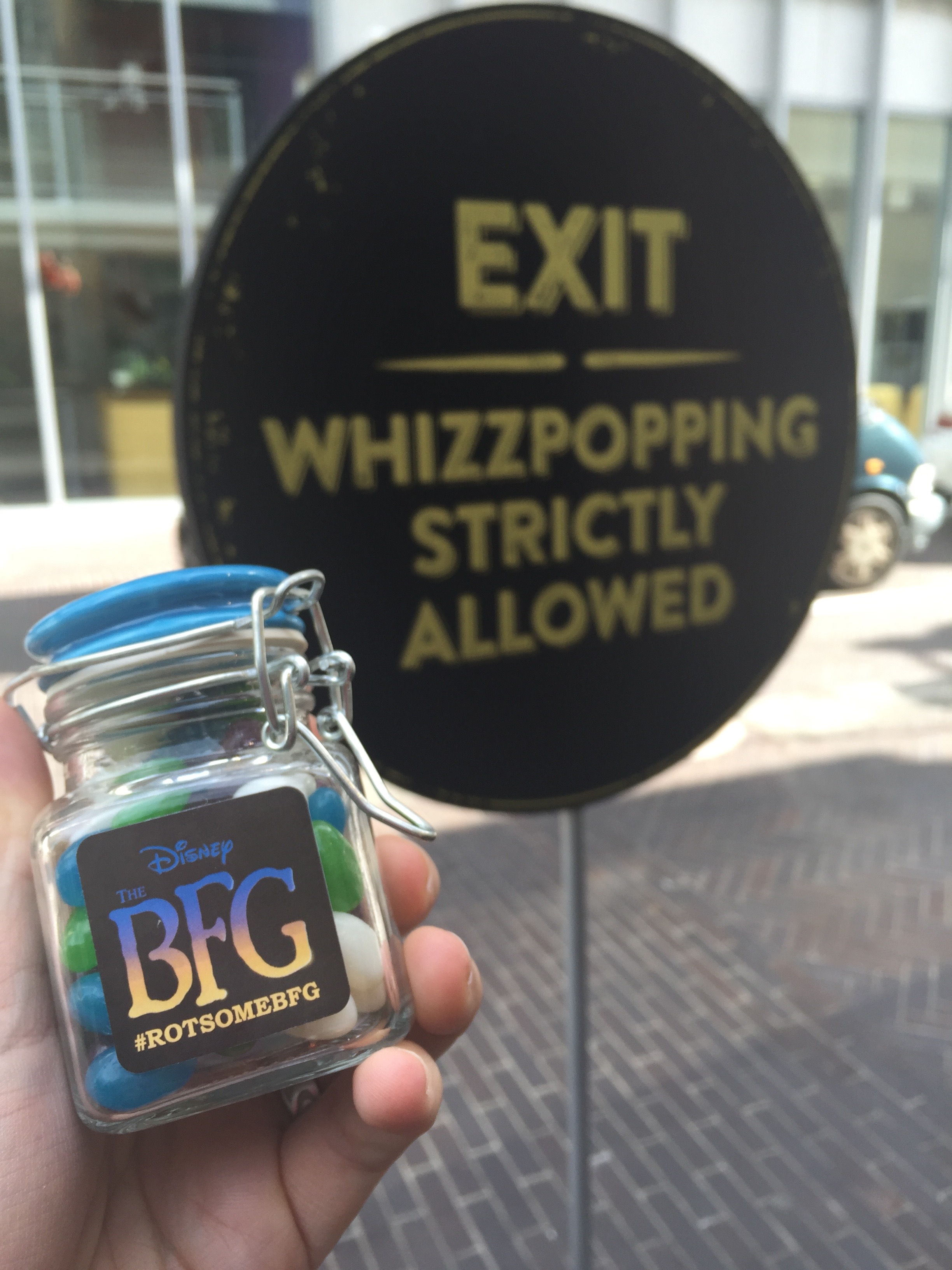 Thank you so much to the wonderful folks at Koi Dessert Bar, Disney Australia, and Mango for inviting me along today. It was such a novel way to celebrate the movie, and Chef Reynold and his staff exceeded all my expectations. Well done!