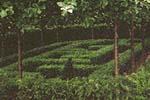 Felicity (who is the nicest woman in the world) offered to give Snookums and I a tour of the garden. There's a lot I didn't photograph, but this was one of my favorite pieces: a hedge maze for children. It's relatively new and still growing, but when it's done it'll be high enough so that they can't cheat. (It's pretty easy now – you can just step over the rows!)

Most of the paving stones in the hedge maze have quotes from Dahl's books that you can read as you wander around. This is the last one as you exit the maze. It says:
"Giants is never dying," the BFG answered. "Sometimes and quite suddenly a giant is disappearing and nobody is ever knowing where he goes to. But mostly us giants is simply going on and on like whiffsy timetwiddlers."

I'm a little confused on which is the front/back garden, but at any rate, on the other side of the house I was delighted to find the famous gipsy caravan! Roald Dahl bought this relic many years ago and had it restored for his children. He used it as the basis for Danny's caravan in Danny the Champion of the World.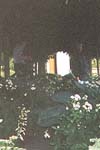 This is a little difficult to see, but basically it's a walkway through a tunnel of trees leading to Dahl's famous writing hut. Felicity described how Roald would climb up on a ladder everyday and weave the branches together to form the arch. This is the path that he took every morning when heading out to do his writing!