In September 2002, I was contacted by a nice man named Franz Schlosser. Franz has translated "Revolting Rhymes" into French, German, and Latin and hopes to publish his translations as a book. He was kind enough to let me post his Latin version of "Cinderella" (complete with illustrations!) here. Thanks Franz!
---
Please do not copy any part of this work
without the author's written permission.
Thank you.
---
Versiculi Horribiles
a Francisco Schlosser Rhenano-Palatinensi
in sermonem Latinum conversi
imagunculisque lepidis exornati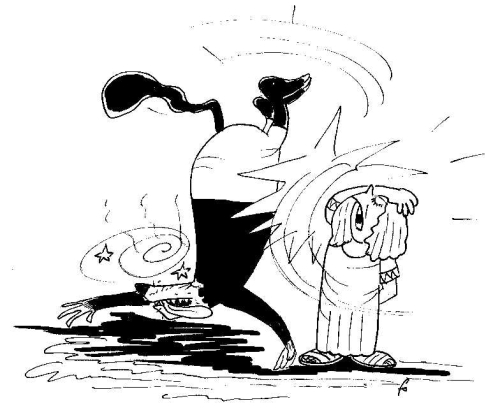 DE CINERENTULA FABELLA
Fabellam haud novistis, quia
haec accidit alia via.
Fabella nota omnibus
infantulis antiquitus
inepta est et stultula
et simplex et innoxia.
Correctast autem pars, in qua
sorores (Cinerentula
in cella clausa, qua in cella
situ corrupta, putidella
arrosa est impavidis
a rattis cibi avidis)
saltatum irent splendidam
in magnam domum regiam.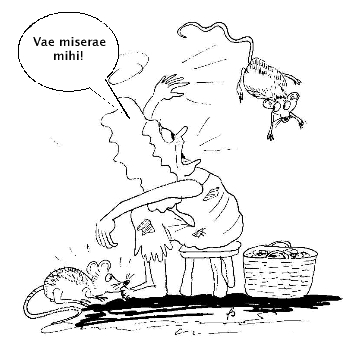 Quanam hi sunt mures?! Summus mus, summa iniuria!
Lamentabatur parva. Quam
audivit maga miseram.
<Quid agitur?> quaesivit e
iuvencula sollicite.
Et parva: <Vae! Vae! Omnium
miserrima sum virginum!>
Tum murum pugnis tractans: ad regiam fer propere!>
clamavit. <Discogaudio (1)
affici velim maximo.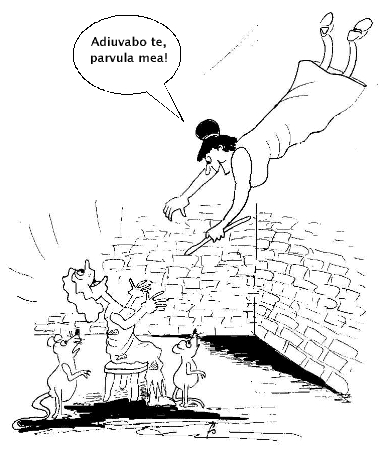 Diva ex machina virga divina praedita Cinerentulae auxilio succurrit
Raeda et veste opus mi,
bracchiali admirabili,
inauribus argenteis,
crepidis, bracis calidis (2).
Me certe ducet regulus
comptam pretiosis vestibus.
Tum maga: <Torquens virgam illam
iuvabo parvam te pupillam.>
In domo magna principis
pupa momento temporis.
Quae fecit ingentissimam
sororibus invidiam
complectens dulcem hominem
iucundum, blandum, divitem.
Qui est amore lepidae
incensus Cinerentulae.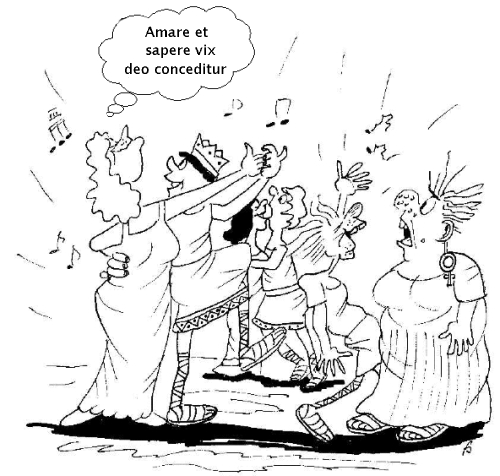 En Cinerentulam cum principe saltantem! Qui eam eleganter manu ducit. Soror ex noverca suscepta separatim, more iuvenum nostrorum dierum (ut fit in speluncis saltatoriis discothecis (3) appellatis), choream dat.
Quae media nocte subito
dixit: <Abire debeo!>
Sed regulus: <Non sino te
abire! Numquam! Minime!>
Vestem retinuit. Amata
puella fugit denudata.
In gradibus argenteam
amisit suam crepidam.
Quam pressit incompositus
ad pectus regis filius.
<Me iungam cum iuvencula,
cui bene sedet crepida.
Scrutabor totum oppidum,
quoad reperiam corculum.>
Quo dicto eius crepidam
imposuit in cistam. Quam
confestim soror pustulata
parvis furunculis vitiata
coniecit cito, furtim, clam
in cellam dictam intimam.
In capsam suum dexterum
imposuit <calceolum>.
Fortuna, ut videtur, vae,
haud favet Cinerentulae!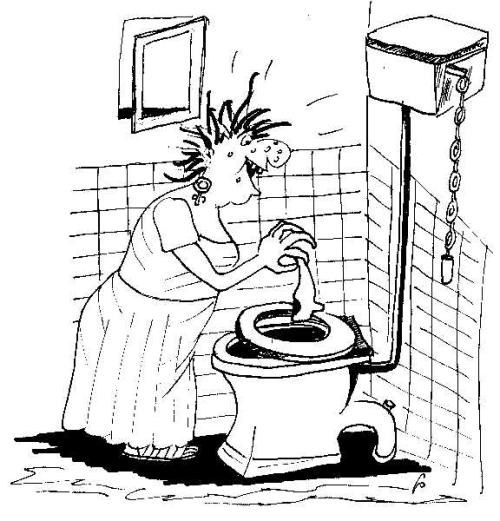 Soror ex noverca suscepta crepidam Cinerentulae in cellam intimam submergit
Pulsavit cuncta ipsa re
vir ostia postridie.
Eresctast exspectatio:
Quis potest uti calceo?
Qui nimis latus calceus,
haud aptus rectis pedibus.
Neque odore is carebat,
sed pedem foetidum olebat. (4)
Quem sunt expertae plurimae
oppidi frustra filiae.
Sororum inducendi tum
fuerunt partes calceum.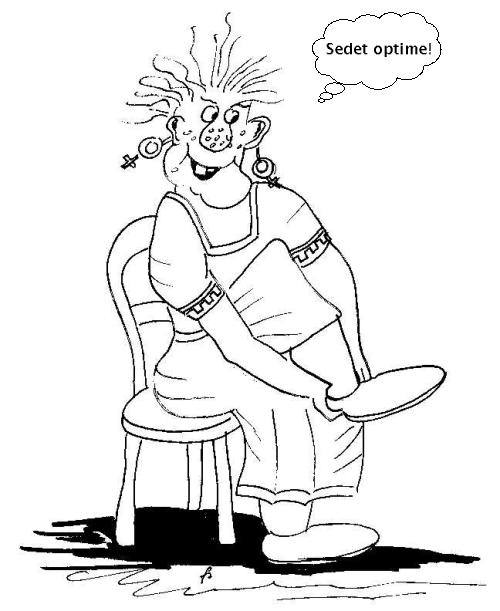 Soror mala calceum sibi inducit
Tum minor: <Sedet bene! Me
nunc ducere opportet te!>
Sed princeps clamitavit: <Di
avertant hoc, ocelle mi!>
<Tu promisisti, mendax, me
ducturum esse publice!<
Haec verba audacissima
capite luit femina.
Clamavit princeps: <Pustulata
pulchrior calva amputata!>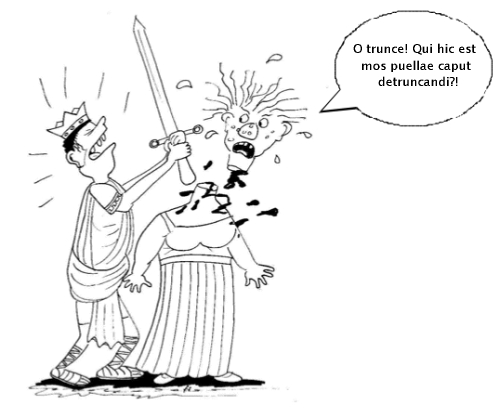 A regule, regule, quae te dementia cepit! Princeps ira incensus puellae caput gladio detruncat.
Voluit maior natu tum
inducere hunc calceum.
Sed princeps huic cucurbitam
taetram abscidit etiam.
Huc illuc caput est volutum
in solo sanguine imbutum.
Audivit Cinerentula
hoc volvi, bona olera
quae coquinabat, brassicam.
Pandit culinae ianuam.
<Quid vult id sibi?!> exclamavit.
<Id tua nil refert!> tonavit
vox saeva regis filii.
<Num nubam tali viro, qui>,
puella inquit, <capita
detruncet muliebria?>
Et regis filius: <Quisnam illa
exspiratura est mamilla?!>
In ipsa morte maga bellae
auxilio venit iuvencellae.
Quae virgam vibrans dixit: <Rem,
quamcumque optes, tibi dem!
Ut meministi, virgula
haec mira est et magica.>
Et parva: <Bona maga, me
nunc caute geram, callide.
Me capit taedium nummorum,
satietas principum stultorum!
Cupio nubere modesto,
integro viro non scelesto.>
Iam paulo post Cinerentella
bono plebeio nupsit bella.
Decocta poma is vendebat,
victum mulieri praebebat.
Ita ridebant, gestiebant,
laute perpetuo vivebant.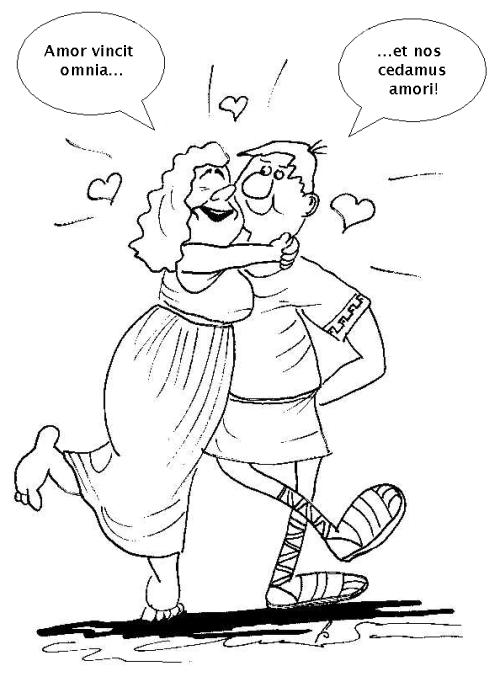 Cinerentula sponsum amplexatur et osculatur. Verus amor nullum novit habere modum.
ANNOTATIONES
Discogaudium: gaudium, quo pueri puellaeque in speluncis saltatoriis versantes afficiuntur.
Bracellae Cal(i)dae: bracae brevissimae, quarum adspectu iucundo virorum oculi pascuntur sensusque quasi titillantur.
Discotheca: spelunca saltatoria, qua in spelunca musica discophonica dicta resonante pueri puellaeque aetatis instrumentorum computatoriorum more hircorum seu hippopotamorum modo huc, modo illuc circumsiliunt, coca-colam sorbent, discolloquia, i.e. colloquia ingenii acumine valentia, habent.
Sunt, qui pedes multo sudore fluentes habent. Pecunia, ut scimus, minime olet, olent pedes!