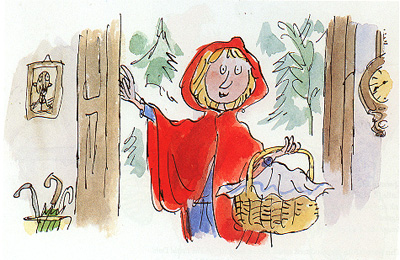 'In came the little girl in red.
She stopped. She stared.
And then she said,
"What great big ears you have, Grandma."
"All the better to hear you with,"
the Wolf replied'.
---
Quentin Blake
Little Red Riding Hood
ink and watercolour
signed
Image size: 11 by 16.5 cm
This watercolour is reproduced actual size in The Roald Dahl Treasury on page 106 to illustrate 'Little Red Riding Hood and the Wolf' from Revolting Rhymes, Roald Dahl's own macabre version of the tale of Red Riding Hood and the Wolf. A version with an unusual twist at the end.
Roald Dahl wrote of his relationship with Quentin Blake: 'I and most of my family are privileged to know him well and everyone adores him. He has illustrated with amazing flair fourteen of my children's books so far and it is Quent's pictures rather than my own written descriptions that brought to life such characters as the BFG, Miss Trunchbull, Mr Twit and The Grand High Witch. It is the faces and bodies he draws that are remembered by children all over the world'.
£300-400