In 1978, Knopf books made a rare foray into board games, publishing Charlie and the Chocolate Factory: A Game. I was fortunate enough to find a copy of this on Ebay a while back, and recently I coerced a group of friends into playing it for the first time.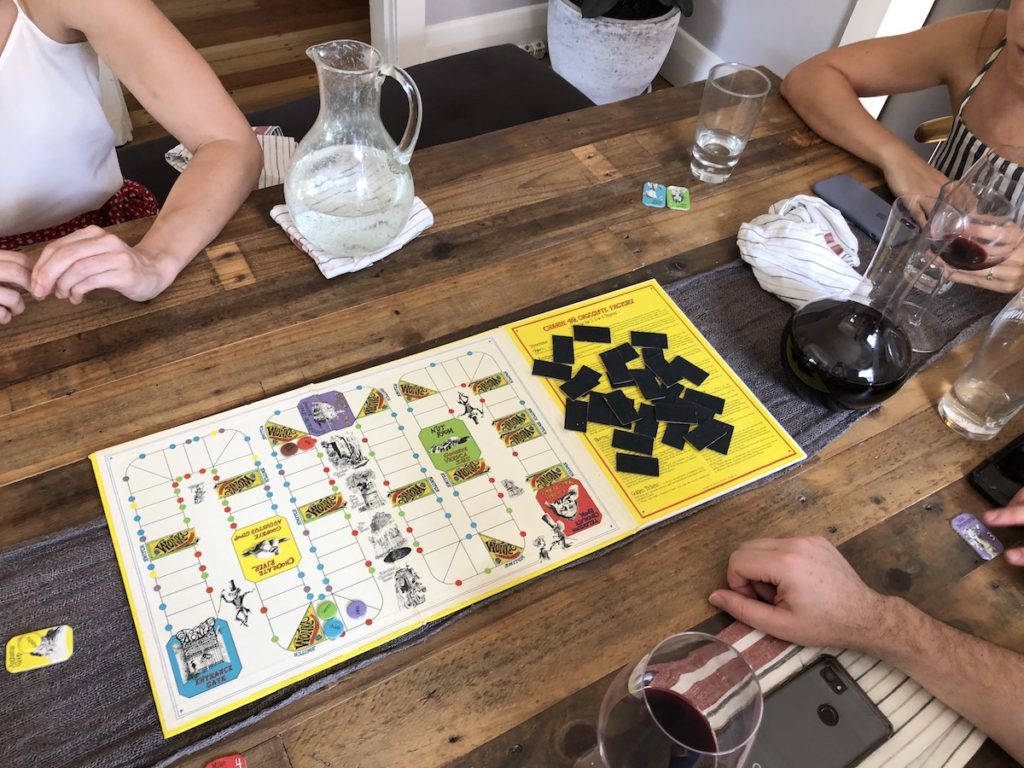 Perhaps unsurprisingly (since it was created by a book publishing house), the game is entirely made up of cardboard and it fits neatly on a bookshelf. The game features Joseph Schindelman illustrations and artwork throughout. The cover unfolds into the game board and all of the needed game pieces pop out. Instead of dice, there are 22 numbered tiles that players select from to determine their next move. There are also five Golden tickets, five cards for each of the children, and six player chips that move around the board (the children plus Mr. Wonka). You win the game if you hold the Charlie card as the Charlie chip reaches the Television Chocolate Room.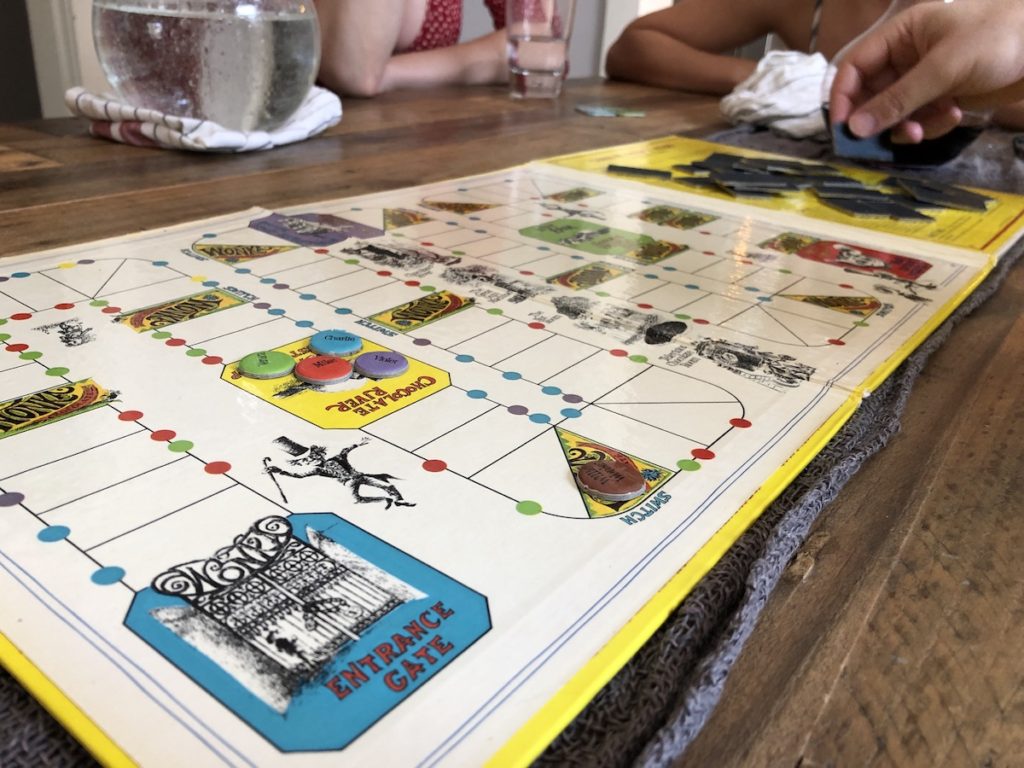 You guys… the rules are complicated. We read them multiple times and it was still confusing. (Granted, we were drinking wine, but still.) It was also a much slower game than I expected. First there's a setup phase where you draw Golden Tickets and claim children. Then there's the tour phase, where Mr. Wonka and the children sloooowly progress through the factory. At each of the rooms, one of the naughty children disappears and is removed from the game. No child can move in front of Mr. Wonka, and he has to stop at each of the rooms until all of the children have joined him. So the game effectively resets at each of the rooms, and basically none of the gameplay until "The Nut Room" actually matters. Most of what you're doing is just swapping child cards around. Whenever someone finds a Golden Ticket (which can happen at any time during the game), that player can claim the lowest numbered child card from someone else as long as its token is not "safe" (ie on a space with a dot the same colour as it). In addition to that, whenever a child chip lands on a Switch space OR lands on the same space as Willy Wonka (if he's not in one of the rooms), the player can switch child cards with any other player (again, as long as that child's token isn't "safe"). Oh, and every time you run out of number cards you have to collect them all, mix them up, and put them back in the pot. So it's a lot of stopping and starting, swapping child cards, and consulting the rules repeatedly – and really none of it actually matters until the very end. Not the most satisfying of games I've ever played, to tell you the truth.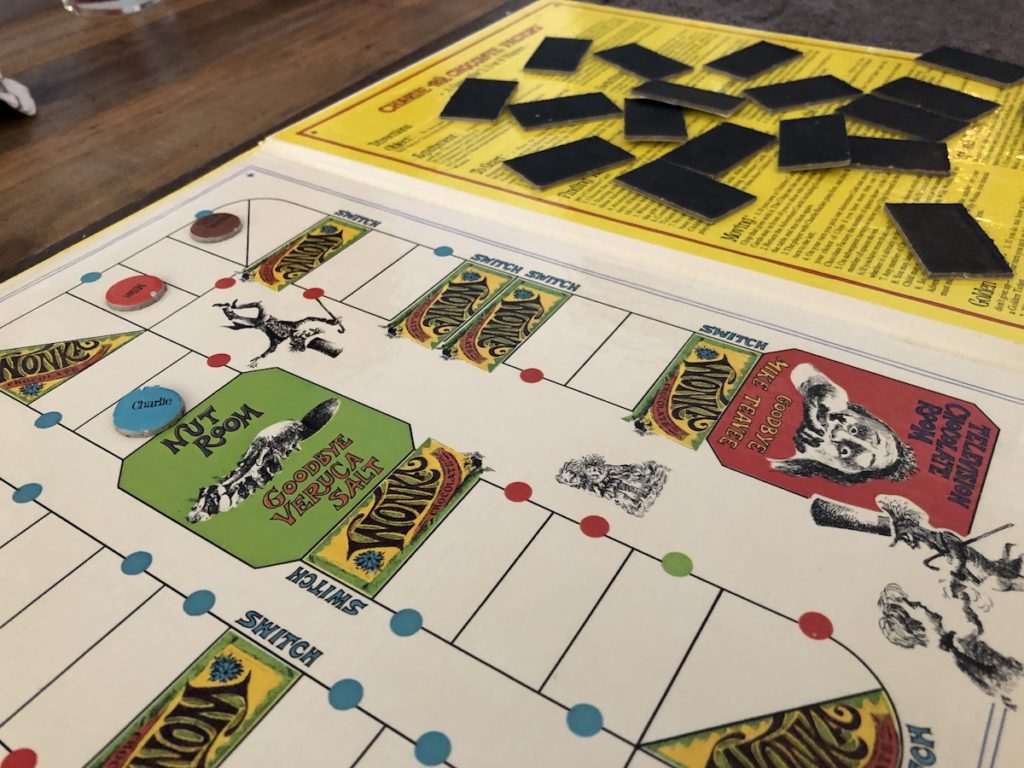 That said, my friend Rory certainly enjoyed when he won!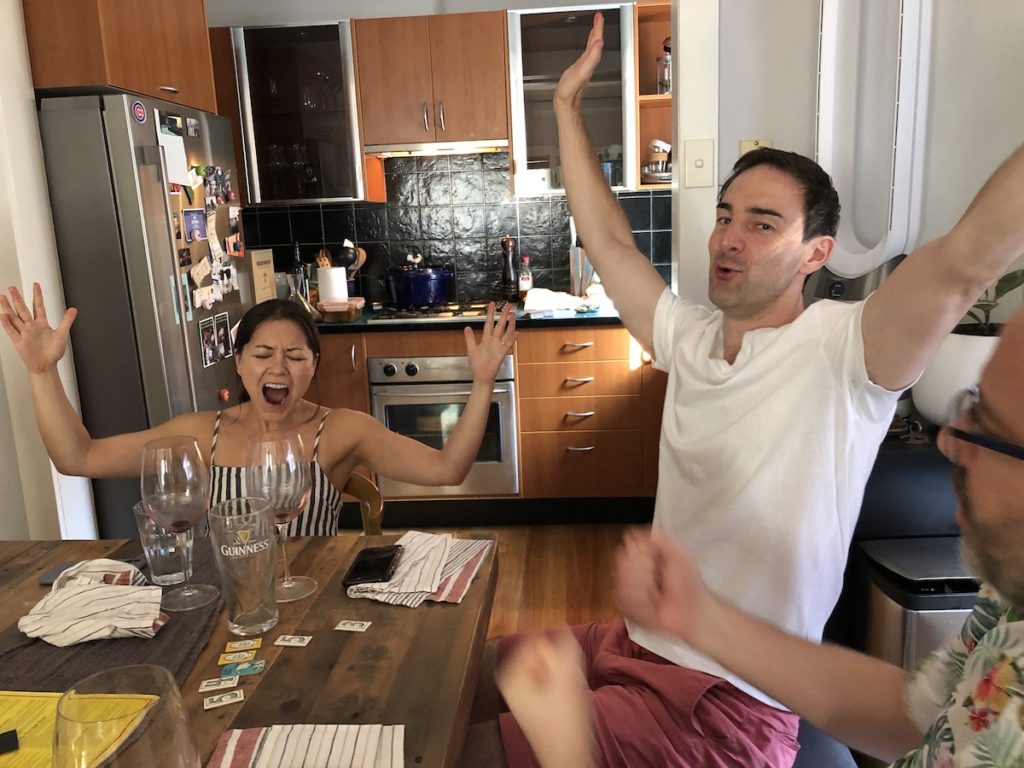 So in summary: As a piece of Dahl memorabilia, I love this game. The illustrations and typography are gorgeous (I've always loved Schindelman's slightly grotesque style), and the design of game board and pieces is very clever. If you're a Dahl collector, you should definitely try to get your hands on a copy. As a playable board game though, it leaves a lot to be desired. The rules are overly complicated, and I can't really picture any kids enjoying it. (I guess that's why it was never republished!)