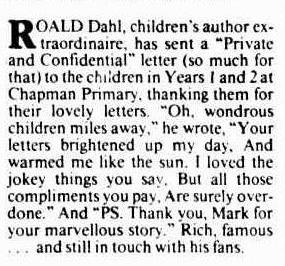 1 September 1989
From The Canberra Times, Canberra, Australia
ROALD Dahl, children's author extraordinaire, has sent a "Private
and Confidential" letter (so much for
that) to the children in Years 1 and 2 at Chapman Primary, thanking them for their lovely letters. "Oh, wondrous
children miles away," he wrote, "Your
letters brightened up my day, And warmed me like the sun. I loved the jokey things you say, But all those
compliments you pay, are surely overdone." And "PS. Thank you, Mark for
your marvellous story." Rich, famous… and still in touch with his fans.