This article is courtesy of the excellent Keith Folk. Thanks Keith!
---
IT WASN'T JUST
"OFF THE BEATEN PATH"
IT WAS…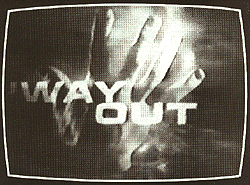 INSIDE THE DAHL HOUSE OF HORROR
Article and Episode Guide by
GARY JOSEPH and MARTIN H. FRIEDENTHAL
Do you remember the brain of a crotchety professor kept alive in a tank? Or a man who changes his neighbors into frogs? Or an actor trapped within his Quasimodo makeup? Or a photographer who alters faces by touching up their photos? Sound familiar? No, they weren't from Night Gallery, The Outer Limits, Alfred Hitchcock Presents, or even The Twilight Zone. All are scenes from an underrated and short-lived series called 'Way Out. Hosted by macabre British author Roald Dahl and lasting only a scant fourteen episodes through the spring and summer of 1961, this half-hour series of rather odd and unsettling stories brought together some of the most talented people who have ever worked in television. And yet, if it weren't for one of TV's great "fiascoes," 'Way Out might never have made it to the home screen at all.
The story begins with, of all people, "The Great One" himself – Jackie Gleason. Friday, January 20, 1961 – the day of John Kennedy's inauguration – was to mark Gleason's triumphant return to television as the host of a celebrity quiz show entitled You're in the Picture. The guest panelists had to put their heads through holes in a picture, and by asking Gleason pertinent questions, try to figure out that the scene they were poking their craniums through was about. The show was, to put it mildly, a bomb. It was so bad in fact, that it was only shown once. The following week, Gleason appeared alone and on a bare stage. For a half-hour, he apologized to the American public for the insult to their intelligence that had been perpetrated the week before. In the succeeding weeks, Gleason, working without a script, followed the same format: he drank from a coffee cup and talked directly to the home audience. Later on, he had informal interviews with such guests as Art Carney, Mickey Rooney, Bobby Darin, Jayne Mansfield, and when things started getting desperate, a chimp.
Mike Dann, head of CBS Network Programming at the time, vividly recalls his involvement with the show. As Dann put it, Gleason's program "was probably one of the single greatest disasters in my twenty-five years as a program bureaucrat at NBC and CBS. It is probably the only program that I've ever been involved with that we had no idea what was going to be on the air the following week."
By early March, panic had set in at CBS. At this point, David Susskind entered the picture. Susskind, well-known and respected as a pioneer producer of quality TV drama, was a man who could deliver a program quickly and under pressure. Dann recalled, "I knew we had to create and find another show – and quick. It had to be done live, if possible."
Dann discussed the program with Susskind at lunch one day. Having just finished producing a series of specials entitled Family Classics, Susskind was planning something new and different. "We in the office," Susskind remembered, "had the idea of an eerie, chilling, creepy drama that would have all the elements of good drama, but would have kind of a nether world sense to it. So we went to Roald Dahl and asked him if he would cooperate by first selling us his stories, secondly adapting them, and thirdly hosting the program. He was six-foot-seven, weighed about one hundred and twelve pounds, had an English accent, and a wonderful modulated voice."
Dann was enthusiastic about the proposal, especially since the time-slot in question was 9:30 to 10:00 p.m. It immediately preceded The Twilight Zone on Friday evenings, which was successfully ending its second season. For this "companion program to Twilight Zone," as Dann remembered it, he and Susskind came up with the name 'Way Out. Within a few short weeks, the initial scripts were done and 'Way Out was ready to go on the air. Possibly the most distinctive and memorable elements of 'Way Out were the bizarre opening and closing remarks written and delivered, with marvelous touches of black humor, by host Roald Dahl. Beginning each show with an inviting, "How're you?" Dahl would then proceed to give advice, for example, on how to murder one's spouse. Or he would tell "pleasant" stories of his boyhood in Norway, where when somebody died and the ground was frozen solid, they would sharpen the legs and hammer the body into the ground "like an enormous nail." Dahl himself got some of the best reviews, with one critic describing him as "a thin Alfred Hitchcock, an East Coast Rod Serling."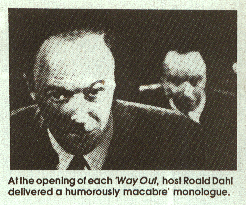 At this time (1961), Dahl was best known for his rather "strange" stories which had appeared in the New Yorker and several published collections. His specialty was the macabre – laced with savage black humor. Attracted by "William and Mary," Dahl's ironic tale of a wife's final revenge on her husband, Susskind and his production company additionally sought Dahl as the host of the show. In an interview at the time, Dahl fretted, "Now, suddenly, I find myself in the position of speaking to the nation for one and a half minutes every week, and it's nerve-racking." Today, however, he fondly recalled hosting
'Way Out
. "I was a pretty young chap then and it was jolly nice. It was amusing for me because it was my first thing on television."
Everyone involved with 'Way Out remembers the frantic scurry to get each weekly episode on the air. Dahl recalled, "There was a hell of a rush. And there was always a rush subsequently. The whole thing was done at a hectic pace. I mean, having gotten mine done, he (Susskind) then had to rush around and find other suitable stories, get them adapted quickly, and line up the cast. Jackie Babbin ('Way Out's producer) did sterling work. David Susskind likes operating at a white heat and he's very good at it." The production crew was always under a very tight schedule. Jacqueline Babbin, now producer of ABC's All My Children, remembered that they had only three days in which to rehearse and tape the show for that Friday night's airing.
One of 'Way Out's greatest advantages was its New York location. This allowed Susskind and Babbin to draw from the great wealth and talent in the New York live theater. Among those who appeared were: Fritz Weaver, Mildred Dunnock, a young Richard Thomas (The Waltons), Martin Balsam, Kevin McCarthy, Michael Conrad (Hill Street Blues), Charlotte Rae (The Facts of Life), and Mark Lenard (Star Trek). As Susskind has said, "The honor list from that group of players on 'Way Out would be hard to beat." How did such an off-beat show attract high caliber actors from Broadway? According to Susskind, "Most good actors were fearful of this kind of material. But by showing that we could get good scripts with these themes and that the characterizations would be rich and ripe for them to play, we were able to make this kind of thing more respectable than it had ever been before." Carmen Matthews, star of the third episode, "The Sister," recalled, "It was a time of boundless energy – and joy and dedication in our work."
Finally, on March 31, 1961, 'Way Out premiered with Dahl's "William and Mary" to rave reviews. Calling this first episode an "auspicious debut," the New York Times priased the show for a tale "told tightly and lightly, with wry and brittle dialogue." A West Coast review added that "'Way Out's chief asset could be its host Mr. Dahl, who practices literary witchcraft in the realm of the macabre and whose introduction to the series and the opener (which he wrote) was a joy… The story we were about to see, he said with a gentlemanly leer, was not for children, nor young lovers, nor people with queasy stomaches. It was for 'wicked old women.'" With "William and Mary" rated number one in its time slot, it looked like 'Way Out, as Mike Dann had hoped, would become a "good team mate" for The Twilight Zone.
For future episodes, producer Babbin hired seasonal script writers such as Irving Gaynor Neiman, Sumner Locke Eliot, and Phil Reisman, Jr. Building on the "basic premise of the 'impossible,'" they managed to come up with a series of tales that were eerie, unsettling, and often a touch fantastic. Ranging among themes as diverse as domestic strife, such as "Death Wish" and "20/20," to nuclear annihilation in "Button, Button,"
'Way Out
zinged its audience weekly with startling "twist" endings. With Dahl's deliciously nasty encapsulations adding spice to the mix,
'Way Out
seemed headed for a long and successful run.
So why, on July 14, 1961, after a mere 14 episodes, did the show bite the dust, never to be seen on television again? The answer is simple – the almighty ratings. Although 'Way Out was a hit in the larger metropolitan areas, it unfortunately did not do well nationwide. Mike Dann speculates that the stories were "perhaps a little too macabre, a little too odd for television. Roald Dahl's show simply was just too limited to be that successful." Thus for the remainder of the summer of 1961, the 9:30 p.m. Friday night spot was filled with reruns of Schlitz Playhouse (renamed Adventure Theater).
Fondly remembering this almost forgotten chapter in television history, Mike Dann said, "'Way Out was one of the last weekly dramatic shows to be done in New York. Practically more than any other show, while it was not the most important, it represented the end of the era of New York as a production center for prime time. The only thing we had left then was variety shows. It meant the death of drama in New York, which is a great loss for everyone."
Eventually, David Susskind donated the tape of 'Way Out to the Museum of Broadcasting in New York City. His message to first-time viewers – or those who like to relive disturbing memories – was "Enjoy them! They were made for entertainment. They were not made to change your philosophy of life. Just be amused, entertained, and enjoy them." And perhaps one day your local PBS or cable channel will pick up the series so that once again after having the wits scared out of us, Roald Dahl can comfort us with his kind words, "Goodnight… and sleep well."