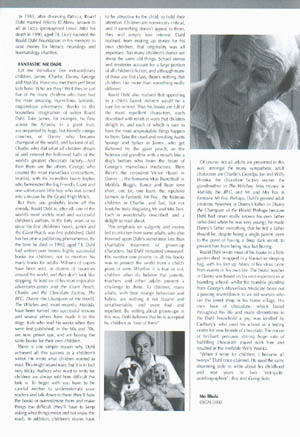 In 1983, after divorcing Patricia, Roald Dahl married Felicity D'Abreu, known to all as Liccy (pronounced Lissy). After his death in 1990, aged 74, Liccy founded the Roald Dahl Foundation in his memory to raise money for literacy, neurology and haematology charities.
FANTASTIC MR DAHL
Let me introduce five extraordinary children, James, Charlie, Danny, George and Matilda. Have you met them yet? Most kids have. Who are they? Well they're just five of the many children who have had the most amazing, marvellous, fantastic, stupendous adventures, thanks to the boundless imagination of writer Roald Dahl. Take James, for example, he flew across the Atlantic in a giant fruit, accompanied by huge, but friendly, creepy crawlies; or Danny who became champion of the world, and luckiest of all, Charlie who did what all children dream of and entered the hallowed halls of the world's greatest chocolate factory…And then there are the others. George, who created the most marvellous concoctions, Matilda, with the incredible brain; Sophie who befriended the Big Friendly Giant and one unfortunate little boy who was turned into a mouse by the Grand High Witch.
But then, you probably know all this already. Roald Dahl is, after all, one of the world's most widely read and successful children's authors. In the forty years or so since his first children's novel, James and the Giant Peach, was first published, Dahl has become a publishing phenomenon. By the time he died in 1990, aged 74, Dahl had written over twenty highly successful books for children, not to mention his many books for adults. Millions of copies have been sold, in dozens of countries around the world, and they don't look like stopping. At least six of his most enjoyable adventures – James and the Giant Peach, Charlie and the Chocolate Factory, The BFG, Danny the Champion of the World, The Witches and, most recently, Matilda, have been turned into successful movies and several others have made it to the stage. Kids who read his works when they were first published, in the 60s and 70s, are now grown ups, and are buying the same books for their own children.
There is one simple reason why Dahl achieved all this success as a children's writer. He wrote what children wanted to read. This might sound easy, but it is in fact very tricky. Authors who want to write for children are always told how difficult the task is. To begin with you have to be careful neither to underestimate your readers and talk down to them (they'll hate the book) or overestimate them and make things too difficult (they'll have to keep asking what things mean and not enjoy the read). In addition, children's stories have to be attractive to the child, to hold their attention. Children are notoriously critical, and if something doesn't appeal to them, they will simply lose interest. Dahl realised, from making up stories for his own children, that originality was all important. Too many children's stories are about the same old things. School stories and mysteries account for a large portion of all children's fiction, and although many of these are first class, there's nothing that children like more than something really different.
Roald Dahl also realised that appealing to a child's basest instincts would be a sure-fire winner. Thus his books are full of the most repellent characters, each described with relish in ways that children delight in, and each of which is sure to have the most unspeakable things happen to them. Take the cruel and revolting Aunts Sponge and Spiker in James…who get flattened by the giant peach, or the hideous old grandma with a mouth like a dog's bottom who bears the brunt of George's marvellous medicines. Then there's the corpulent Victor Hazel in Danny…, the fearsome Miss Trunchball in Matilda, Boggis, Bunce and Bean (one short, one fat, one lean), the repulsive farmers in Fantastic Mr Fox, the hideous children in Charlie…and last, but not least,the truly disgusting Mr and Mrs Twit. Each is wonderfully described, and a delight to read about.
This emphasis on vulgarity and excess led to criticism from some adults, who also frowned upon Dahl's sometimes less than charitable treatment of grown-up characters, but Dahl remained unswayed. His number one priority in all his books was to present the world from a child's point of view. Whether it is true or not, children often do believe that parents, teachers and other adults present a challenge to them. To children, many adults, with their strange behaviour and habits, are nothing if not bizarre and unfathomable, and even foul and repellent. By writing about grown-ups in this way, Dahl believes that he is accepted by children as "one of them".
Of course, not all adults are presented in this way; amongst the many sympathetic adult characters are Charlie's Grandpa Joe and Willy Wonka, the chocolate factory owner; the grandmother in The Witches; Miss Honey in Matilda; the BFG, and Mr and Mrs Fox in Fantastic Mr Fox. Perhaps, Dahl's greatest adult creation, however, is Danny's father in Danny the Champion of the World. Perhaps because Dahl had never really known his own father (who died when he was very young), he made Danny's father everything that he felt a father should be, despite being a single parent, even to the point of having a deep dark secret, to prevent him from being nice but boring.
Roald Dahl wrote most of his books in a little garden shed, wrapped in a blanket or sleeping bag, with his feet up. Many of his ideas came from events in his own life. The brutal teacher in Danny was based on his own experiences at boarding school, whilst the horrible grandma from George's Marvellous Medicine bears not a passing resemblance to an old woman who ran the sweet shop in his home village. His own love of chocolate, which lasted throughout his life and made dinnertimes in the Dahl household a joy, was kindled by Cadbury's, who used his school as a testing centre for new brands of chocolate. The notion of brilliant geniuses stirring huge vats of bubbling chocolate stayed with him and resulted in the ineffable Willy Wonka. "When I write for children, I become all twerpy" Dahl once claimed. He used the same disarming style to write about his childhood and war years in two "not-quite-autobiographies", Boy and Going Solo.
Mo Bhula
©JGH 2000