Sections: Information | Text | Cover
---
Information
Collected in: The Book of Lists 3

Edited by: Amy Wallace, David Wallechinsky, Irving Wallace
Published: January, 1983
Special thanks to Stephen Jarvis  for providing this information!
---
Text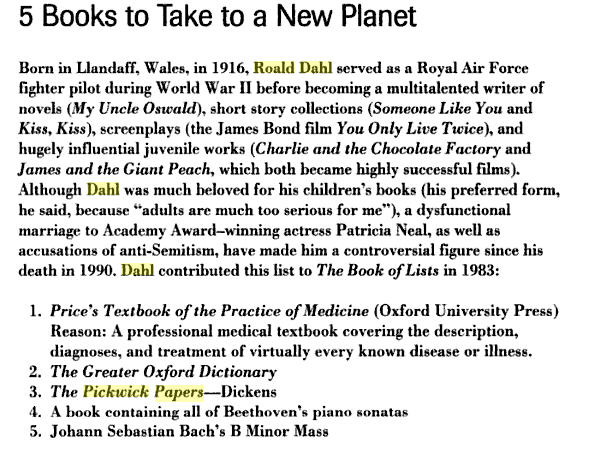 ROALD DAHL'S 5 BOOKS TO TAKE TO A NEW PLANET
Born in Llandaff, Wales, in 1916, Roald Dahl served as a Royal Air Force fighter pilot during World War II before becoming a hugely successful writer of novels (My Uncle Oswald), short-story collections (Someone Like You and Kiss Kiss), screenplays (the James Bond film You Only Live Twice) and highly influential juvenile works (Charlie and the Chocolate Factory and James and the Giant Peach, which both became highly successful films). Although Dahl was much beloved for his children's books (his preferred form, he said, because 'adults are much too serious for me'), a dysfunctional marriage to Academy Award-winning actress Patricia Neal, as well as accusations of anti-Semitism, have made him a controversial figure since his death in 1990. Dahl contributed this list to The Book of Lists in 1983.
Price's Textbook of the Practice of Medicine (Oxford University Press).

Reason: A professional medical textbook covering the description, diagnoses and treatment of virtually every known disease or illness.

The Greater Oxford Dictionary
The Pickwick Papers by Charles Dickens
A book containing all of Beethoven's piano sonatas
Johann Sebastian Bach's B minor Mass
---
Cover