This review was printed in the November 7, 1964 edition of The Saturday Review.
---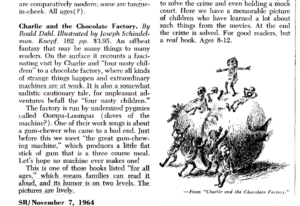 Charlie and the Chocolate Factory. By Roald Dahl. Illustrated by Joseph Schindelman. Knopf. 162 pp. $3.95. An offbeat fantasy that may be many things to many readers. On the surface it recounts a fascinating visit by Charlie and "four nasty children" to a chocolate factory, where all kinds of strange things happen and extraordinary machines are at work. It is also a somewhat sadistic cautionary tale, for unpleasant adventures befall the "four nasty children."
The factory is run by undersized pygmies called Oompa-Loompas (slaves of the machine?). One of their work songs is about a gum-chewer who came to a bad end. Just before this we meet "the great gum-chewing machine," which produces a little flat stick of gum that is a three course meal. Let's hope no machine ever makes one!
This is one of those books listed "for all ages," which means families can read it aloud, and its humor is on two levels. The pictures are lively.