The Witches (Averham, UK)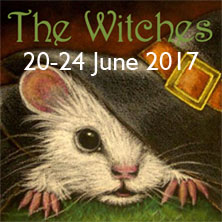 This famous children's story is charming and frightening in equal measure and is suitable for adults as well as children. It is a challenging script for actors and technical crew with multiple sets, transformations and magical happenings.
Roald Dahl was born in Wales of Norwegian parents in 1916. He started writing after serving as a World War 2 fighter pilot and being badly injured in a crash. His nineteen stories for children are very popular but have been the subject of some controversy, as critics and parents have balked at their portrayal of children's harsh revenge on adult wrongdoers. In his defence, Dahl claimed that children have a cruder sense of humour than adults, and that he was merely trying to appeal to his readers. He was right, of course and his stories about such as 'Matilda', 'Charlie and the Chocolate Factory' and 'James and the Giant Peach' have been turned into successful plays and films. The film of 'The Witches' made in 1990 is a children's classic.
Throughout his life Dahl was a passionate advocate of children's reading in general and stories in particular. He said, "Without stories, we're all eating machines with shoes". The story of 'The Witches' begins when the unnamed protagonist, known only as Boy, moves in with his grandmother after he is left an orphan. The relationship between Boy and the grandmother is good as they love each other very much. She tells him many stories about witches, specifically how to recognize them so he will be safe from them. Witches are awful creatures who look like human women and prey on children. Boy and Bruno, a guest in the same hotel, become victims of the witches but with the unwitting assistance of the hotel staff they do get their revenge.
"And above all, watch with glittering eyes the whole world around you because the greatest secrets are always hidden in the most unlikely places. Those who don't believe in magic will never find it." Roald Dahl